Image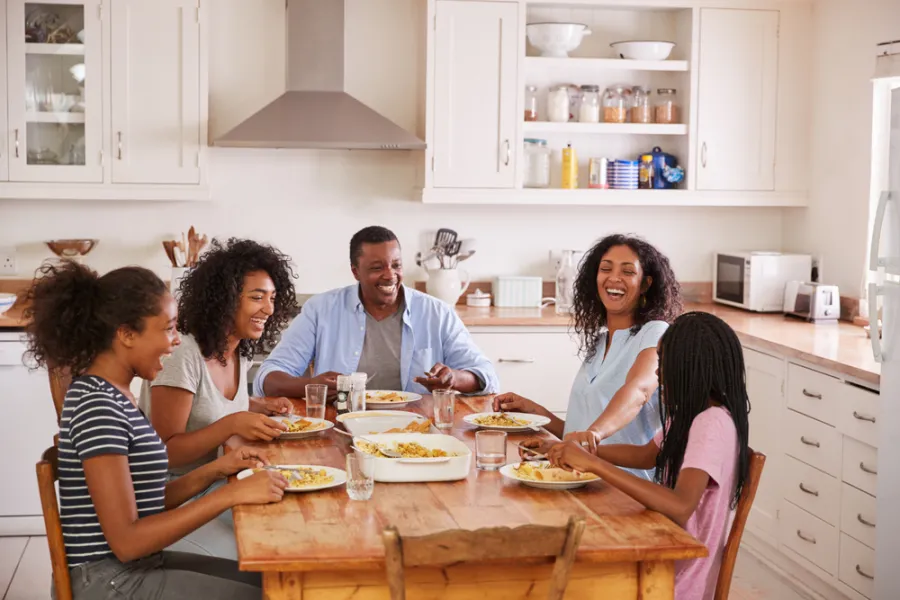 When you're looking for the best family dinner ideas, keeping it simple and delicious is often the first priority. You want something that's sure to please everyone, that's easy enough to accomplish with as few dishes as possible, and of course makes your tastebuds happy. We're here to bring you the best family dinner ideas that will bring a smile to the face of even the pickiest eater. Here at Hungry Howie's®, we make it easy to feed your team. Whether it's dinner for all of the kids or a cherished meal between just mom and dad while you watch a movie, our menu is sure not to disappoint.
Here are the 5 best family dinner ideas, according to the foodies at Hungry Howie's®.
1) Pizza
You know we have to start with our speciality. A great big Hungry Howie's® pizza with all of your favorite toppings. We're talking melty, gooey cheese, fresh and crunchy veggies, or Meat Lovers delight. Whatever floats your boat, we've got it ready to go on a pizza for you and the fam.
Made with 100% real mozzarella on pizza dough that's made fresh daily, you just can't go wrong. Add on our famous Flavored Crust® for free and you've got yourself a pizza that's as unique as your family. Available in a variety of sizes ranging from personal 8-inch pies all the way to 14-inch by 16-inch sheets as well as 16-inchers, no matter how large your family gathering is we have a pizza that's right for you.
2) Oven Baked Subs
Who doesn't love a good oven baked sub? With a large variety of options right here at Hungry Howie's®, they make for another one of our best family dinner ideas. You can order a few large subs to slice and split between family members for a great mix-and-match or order the regular size if everyone wants their own. There's no wrong way to go when you're ordering subs if you ask us.
You'll find everything from steak and mushrooms to chicken parmesan to ham and cheese or meatball and marinara, and everything in between. We also have a Veggie Sub on the Hungry Howie's® menu for the vegetarians in your life. Of course, all of our oven baked subs are customizable so everyone can get precisely what they're craving for dinner tonight.
3) Oven Baked Pasta
Are you craving carbs but not feeling pizza or a sub? No worries, we still have just the order for you when searching for the best family dinner ideas. Be sure to check out all of our options for oven baked pasta dishes. Available in Regular or Large sizes, with meatballs or chicken Parmesan, our oven baked pastas are hot, delicious, and filling.
You can order oven baked pasta for delivery or place an order for pick-up. Whatever is most convenient for you and your family this evening.
4) Fresh Salads
Sometimes you're looking for something that's a little more green and packed with veggies, and that's okay too. Hungry Howie's® has just the order for you. If you're trying to think of the best family dinner ideas that are fresh and flavorful salads are an excellent option.
Choose from Classic Cesar, Chicken Asiago, Antipasto, and more. We even have Greek Salads and Chef Salads on the menu, among many others.
5) Don't Forget the Sides
The best family dinner ideas include more than just the main course. They also include delectable side dishes. Hungry Howie's® has a wide variety to choose from to complete your order. Try our Howie Wings®, which are both juicy and crispy, in original or boneless. Or, add on an order of Howie Bread®, which comes stuffed with cheese or meat.
Also, be sure to include dessert. Try our baked Howie Cookie® or Cinnamon Howie Bread® to please your sweet tooth. Order soda and cold beverages to complete your meal, grab some paper plates and plastic utensils, and voila! You have a complete meal for the family with no dishes.
Order for Take Out or Delivery Today
Are you trying to figure out what to order for dinner for the family tonight? Find your closest Hungry Howie's® location and place an order for a main course, some delicious sides, and of course, dessert. We make it easy to get your meal in the way that's most convenient for you.
You can place an online order or give us a call and we'll get your dinner going in no time. Swing by on your way home from work or the kid's sports practice to pick up your order in person or order for delivery to get your family's meal straight to your doorstep. However you order, you can't go wrong.
The best family dinner ideas always start with Hungry Howie's®. Place your order today.