Image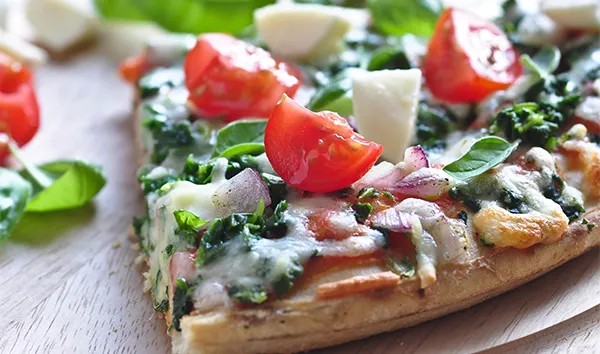 Whether you're a vegetarian, need a Meatless Monday dinner idea, or are looking to eat just a little bit healthier, the Hungry Howie's Veggie Pizza is your go-to option. Topped with fresh mushrooms, green peppers, onions, black olives, and tomatoes, it's a flavorful and filling pizza. Our low vegetable pizza price makes being a little more health conscious easy!
Still, there are times when you want to spice it up, and it doesn't mean just adding jalapenos to the pizza. There are many ways you can add more flavor to a veggie pizza, all you need to do is explore the topping options available.
It's All Greek to Me
If you're looking for some Mediterranean flavor, top your pizza with green peppers, black olives, red onion and feta cheese. These Mediterranean ingredients are typically used in a Greek salad and other dishes.
Add Some Heat
There is probably no better way to spice up a veggie pizza than by adding jalapenos. Choose your favorite veggies or order the Hungry Howie's Veggie Pizza and ask for jalapenos for that extra kick. Plus, there are plenty of health benefits to eating jalapenos. If you want just a touch of heat, red onions and mild peppers are a zesty addition to any veggie combination.
Add a Touch of Sweetness
While there are plenty of arguments about whether pineapple belongs on a pizza, the Hungry Howie's team is definitely pro-pineapple. Add some sweetness to your pie by requesting pineapple. If you want to balance flavors out, consider combining pineapple, jalapenos, and a drizzle of sweet BBQ sauce to top it all off.
Get Saucy
Sweet BBQ sauce can add a touch of sweetness to any pizza but you can also spice up any veggie pizza with a delicious sauce. Try ordering the Asian Chicken Pizza, minus the chicken, for some bold flavors. If you're craving Buffalo wings, try adding a drizzle of Buffalo sauce to your veggie pizza.
Get creative with your veggie pizza and you won't even miss the meat. Plus, you'll still be getting some protein and loads of vitamins and minerals with all the toppings you choose. If veggie pizza isn't your thing, consider our fresh salads! Next time you're ordering from Hungry Howie's, listen to your mother and remember to eat all your veggies.
*Some toppings online available at certain locations. Check with your nearest Hungry Howie's to find out what is available.