Image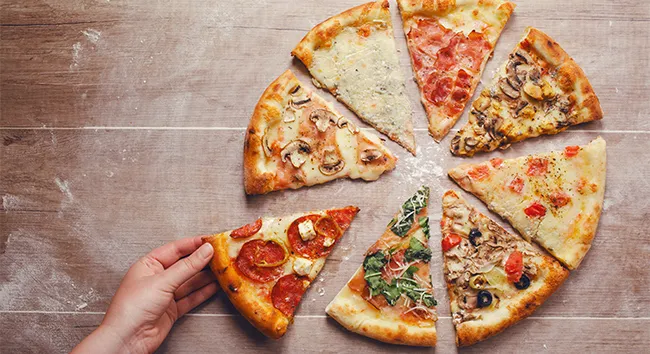 The United States usually has a universal option of what pizza toppings to add to our pies. Pepperoni is the most popular, followed by sausage, bacon, ham, beef, and chicken. Then add the wide assortment of veggies, like onions, mushrooms, peppers, and olives, and that generally sums it up. But what about pizza lovers around the world? What pizza toppings are they crazy about which aren't usually on our radar?
We went digging to see what global pizza fanatics eat because learning something new is always cool. The answers might even give you a great conversation starter for your next family take-out night or office party. Check out the favorites worldwide for the best global pizza toppings and see if you'd love them, or take a pass.
10 Different Pizza Toppings Around the World
Bold seasonings, unique meats and veggies, and different flavors dominate some of the world's favorite pizza toppings. Some of them may be surprising, but we bet they taste amazing. Take a look and see if any of the pizza additions below pique your interest.
1) Eggs
That's right, eggs. This popular pizza topping in the United Kingdom usually serves as part of a full "English Breakfast Pizza." It's not unheard of to see this topping in America occasionally, added as a poached egg right before the pizza bakes.
2) Black Beans
You're not alone if you've never considered adding black beans to your pizza. However, you'll likely find them added to Mexican pies and some in the U.K. and Latin America, where legumes are a staple food. These can come as a Chipotle Pizza or an American fusion pie incorporating even more obscure ingredients like corn kernels or shrimp.
3) Baked Beans
Back in the 1980s-1990s finding baked beans wasn't unusual in the United States. However, we've dropped the habit since then, and you'll be hard-pressed to find a restaurant with this pizza topping option. The famous company Heinz previously sold baked bean frozen pizzas to grab in-store. However, the topping lives on in the U.K., where they typically include it as part of their English Breakfast Pizza.
4) Squid
Don't be afraid–squid is a popular pizza topping in Japan. The country is known for its eccentric and pleasing dishes; many visit it for this reason. If you ever find yourself visiting, give squid pizza a try.
5) Fish
Sardines are a fish that some Americans love on their pies, but in Russia, they often add many others. Think tuna, mackerel, and salmon. Russians serve this dish cold, contrary to the warm and gooey pizzas Americans know and love.
6) Banana
The debate of whether pineapple belongs on pizza is huge in the United States. But in Sweden, seeing bananas on a pie is entirely normal. They even take it up a notch by adding curry to the pie to create a flavor that's both sweet and slightly spicy. Ham and cheese usually accompany the fruit.
7) Lamb
People who eat lamb usually consider it a holiday delicacy, but it's a pizza topping fave in the Netherlands. It's served Shawarma style, a cooking technique popular in the Middle East, dating back to the Ottoman Empire.
8) Duck
If you've never eaten duck before, in any form, this one may sound even more strange. However, duck confit is a popular topping in many countries. You can even find it here in the United States if you search far and wide. The recipe for duck confit originated in France, where the meat is cured overnight and then soaked in its own fat. The result is a super tender, juicy, silky topping with a slightly salty twist.
9) Coconut
Popular in Costa Rica, many add shredded coconut to their pizzas. It adds a hint of sweetness, and Brazilians love to keep it in the mix when adding shrimp and black beans.
10) Reindeer
Reindeers aren't mythical creatures that appear only at Christmas. In countries like Scandinavia, it's a meat of choice to top a pizza. Reindeer are a prominent animal in the region since it's often frigid and snowy. The "official" name for this meat is Berlusconi.
Try New Flavors As You Travel
When traveling, seasoned tourists will often tell you to eat as the locals eat. Visit authentic restaurants that serve unique dishes, not just the Americanized versions you're accustomed to. If any of these toppings sound exciting and you find yourself abroad, give them a go.
Order Hungry Howie's Today
We may not have these exotic and eclectic toppings here at Hungry Howie's, but we sure do make a mean pizza. With all your current favorite toppings, add meat, veggies, Flavored Crust, dipping sauce, and more to create your own unique flavor right at home.
Order today and grab your favorite flavor combo for take-out or delivery.