Image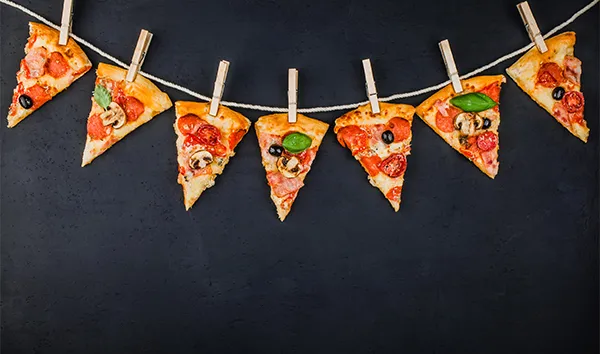 There are many myths about pizza floating around out there, and some are commonly believed. But as true pizza aficionados, we're here to tell you which are right and which you can toss out the window. Hungry Howie's has been in operation since the early 1970s, and we now have more than 550 locations throughout America. As the 11th largest pizza franchise in the country, we know our stuff. In fact, pizza is amongst our largest breadth of knowledge.
One of the most significant myths about pizza is that it's entirely unhealthy, with no nutritional benefits. It's seen as a go-to comfort food or a quick take-out on the weekend. It's well known for making appearances at kids' birthday parties, office gatherings, and when friends come over to watch the big games. Essentially, it's seen as greasy and delicious junk food. But that's not necessarily the case.
While the places pizza frequents most are true, the myth that it's entirely unhealthy isn't the case. We're here to debunk this pizza myth and a few others. Now you can bring a fresh take to the dinner table and know what you're serving others. Your mind can rest.
3 Pizza Myths to Debunk
Is pizza made of bread, cheese, and a delicious tomato sauce? Absolutely. Can you add an assortment of salt or sweet toppings? Of course. What about fresh veggies? The answer is yes! While all of these may sound great on their own, when you bring them together, you end up with a delicious and satisfying pie. But that doesn't have to mean it's all bad for you!
Here are three things to consider when buying your next pie and some fun facts to spice things up.
1) Pizza Is Just a Party Food without Nutritional Value
Pizza nutrition facts may surprise you. The average slice is approximately 285 calories, just a portion of your daily needs. Nutrition guidelines have recently been updated to include tomato sauce in daily vegetable portions. Pizza has plenty of protein, with an average of almost 13 grams a slice. If you add extra meat toppings, you'll up your protein portion even more.
Another way to make pizza more nutritious is to pack your pie with veggies. Onions, peppers, mushrooms, and more all provide crucial health benefits. And–even better, pizza also contains calcium! Cheese is dairy, so that you can count it toward your calcium intake. The average slice provides nearly 20% of your daily needs. Additionally, you'll find fiber in the crust, which is key to helping maintain a healthy digestive system.
These are benefits people don't often consider. You'll get protein to help build muscle, calcium to help build strong bones, and fiber to keep you feeling full and satisfied. Adding extra veggies is the topping on the cake. If upping your vegetable intake is your goal, try Hungry Howie's Veggie Pizza. It's loaded with mushrooms, red onions, green peppers, tomatoes, and black olives.
2) Pizza Makes You Fat
False! This may be one of the most common myths about pizza that's out there. There are plenty of ways to make your pie more weight-management-friendly. These include options like using a cauliflower crust, gluten-free or whole-wheat crusts, low-fat or light cheese, and adding plenty of veggies to the top to help meet your recommended daily servings.
And as is the case with most other foods, moderation is key. No one is recommending pizza for breakfast, lunch, and dinner, a few pizza days here and there won't derail your diet or ruin your weight-management goals. So grab a slice, and treat yourself even if your sights are set on meeting a goal.
3) Hawaiian Pizzas Are Just for Fun
A non-nutrition yet interesting fact is that despite its name, pizza with pineapples didn't originate in Hawaii. Hawaiian-style pizzas that feature ingredients like ham and pineapple originated in Canada. However, you'll still find health benefits in this pie. The Howie Maui Pizza has plenty of tasty fruit that has some unique health benefits of its own.
You'll find potassium, fiber, protein, vitamin C, iron, vitamin B6, magnesium, calcium, and more packed into these tiny pieces of fruit. We know that pineapple on pizza is a much-debated topic, so if you're a pineapple lover, you might want to share these health benefits with the opposing side to help them give it a chance.
Order for Take-Out or Delivery Today
At Hungry Howie's, you can create your own custom pizza with the toppings of your choice or go with one of our carefully crafted pies. Our favorites for those seeking the most health benefits from their order include the Veggie Pizza or the Howie Maui Pizza. If you also want a boost of protein, try The Works Pizza.
On The Works, we load it up with Pepperoni, ham, Italian sausage, ground beef, mushrooms, red onions, green peppers, black olives & extra mozzarella cheese. Combine all the benefits right in one!
Now that you know about all the health benefits in just one slice and some of the myths about pizza have been debunked place your order for take-out or delivery today.