Image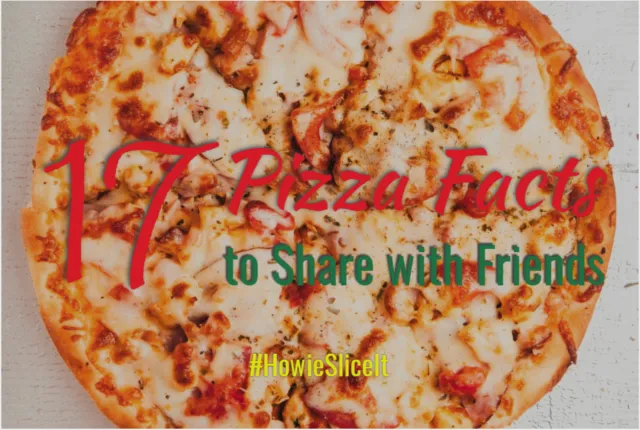 Ah, pizza, what's not to love? Since this is all about statistics and fun pizza facts, I'll begin with a bold statement: chances are, at some point in your life, pizza was (and may still be) your favorite food.
It's hard to find fault with a meal made up of cheesy, delicious manna from heaven. Add to that the fact that pizza is super customizable – plain cheese or loaded with the works – there's a pizza for every taste. If you consider yourself a pizza fanatic, or even if you just really like random information, here are some fun facts about pizza nutrition and pizza in general.
Of the more than 5 billion pizzas sold worldwide, approximately 3 billion are sold in the US each year — that's 46 slices a year per person.

93% of Americans have eaten pizza sometime in the last month (I think that's kind of low).

A 14-inch pie is currently the most popular pizza size in the US.

Pizza nutrition fact — a slice of cheese pizza contains approximately 272 calories, 12.7 grams of protein, 1.8 grams of fiber, and 9.8 grams of fat. Adding some veggies only increases the nutritional value.

Approximately 251,770,000 lbs. of pepperoni are consumed each year — probably on pizza since 36% of all pizza orders include pepperoni.

October is National Pizza month in the US — it's never too soon to get ready.

Pizza nutrition fact — a slice of cheese pizza gives you 45.8% of the selenium, 39.8% of the riboflavin, 31.1% of the phosphorus, 29.2% of the thiamin, 24% of the folate, 23.8% of the vitamin B-12, 21.1% of the niacin, 14% of the calcium, 12.8% of the zinc, and 12.2% of iron recommended by the Institute of Medicine's Food and Nutrition board. Who knew there was a daily requirement of phosphorus?

There are approximately 61,300 pizzerias in the US.

Pizza nutrition fact — eating pizza regularly reduces the risk of esophageal cancer by 59%, reduces the risk of oral cavity and pharyngeal cancer by 34%, and reduces the risk of colon cancer by 25% — the lycopene in the tomato sauce is an antioxidant that can lower the risk of cancer, when pizza is a part of a healthy diet and lifestyle.

Not surprisingly, Saturday is the most popular night to eat pizza.

The Super Bowl is number one pizza day in the US, followed by Halloween, the day before Thanksgiving, New Year's Eve, and New Year's Day.

Pizza nutrition fact — an average slice of a medium-sized cheese pizza ranges from 220 to 370 calories. Loading it up with vegetables can provide you some additional vitamins and minerals.

The majority — 80% — of Italian cheese production in the US is mozzarella, because, you guessed it, pizza.

More than 10% of food service sales in the US is pizza.

62% of Americans choose meat-based toppings, 38% choose veggie toppings—women are 2X as likely to order vegetables on their pizza.

Pizza nutrition fact — when you eat a serving of pizza, it provides roughly 27% of the total energy you use on the day you eat it.

Approximately 36% of Americans think pizza is perfect for breakfast (again, that estimate seems kind of low).
So, keep in mind these fun facts about pizza nutrition the next time you order, and add a veggie or two to your 14-inch pie.
Resources
http://www.washingtontimes.com/news/2013/apr/30/pizza-reduces-cancer-risk-study/
http://recipes.howstuffworks.com/fresh-ideas/dinner-food-facts/12-facts-about-pizza.htm
http://elitedaily.com/envision/food/pizza-time-heres-complete-list-everything-dont-know-americas-favorite-food-pizza/
http://firstwefeast.com/eat/12-amazing-pizza-facts-that-everyone-should-know/