Image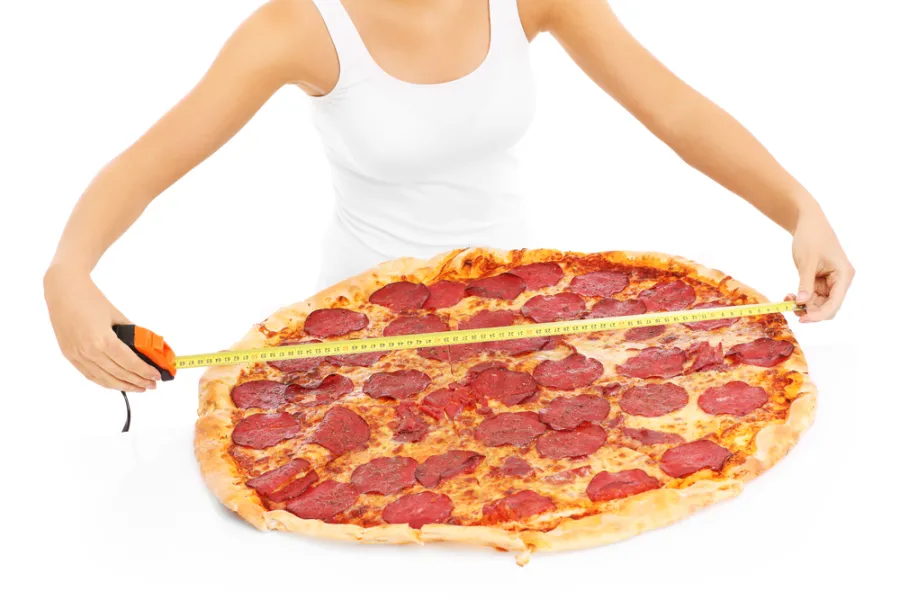 A 16-inch pizza is the perfect way to happily feed a group of family & friends, but the question of how many slices in a 16-inch pizza is one that we hear quite frequently here at Hungry Howie's®. And it's a fair question to ask. After all, for all the positives that one can say about the pizza industry, standard sizing isn't one of them. That means that how many slices a certain size pie contains can vary from establishment to establishment, though luckily they tend to remain consistent among the same brand or franchise. However, knowing how many slices you're about to get after you place an order is crucial, especially if you're feeding a large group. We're here to break down the numbers, help you figure out how many pizza pies to order, and of course, deliver your favorite meal straight to your door.
Order Hungry Howie's® tonight and bring home a meal that the entire family can agree on. Or, if you're hosting a get-together, planning an office party, or need to bring off-the-field sustenance to the kid's big game, give us a call or place an order online. You can either swing by and grab your order on the way to your destination or order for delivery and we'll bring everything you need, utensils and plates included upon request, right to where it needs to be. Delicious, filling, and on time, every time.
Slices per Pizza Pie
How many slices in a 16-inch pizza at Hungry Howie's®, you ask? At Hungry Howie's®, the 16-incher is our XL-sized pizza, which means that it's the largest you can order. The only way to go any bigger is to get our catering sizes, which include a sheet pizza. But most of the time, an XL (or two, or three) will do the job just fine. In a 16 inch Hungry Howie's® pizza there are 8 slices.
You may notice that our Medium-sized, 12-inch pizza, as well as our Large-sized 14-inch pizza, also contains 8 slices apiece. While it's true that no matter which pie you order you will get the same amount of slices when you get the 16-inch XL pie, you'll be getting slices that are bigger, loaded with more cheese and toppings, and sure to be more filling. It's the surefire way to go if you're feeding a hungry group or ravenous children.
How Many Pizzas to Order
The second most popular question we get here at Hungry Howie's®, following "how many slices in a 16-inch pizza?" is regarding how many pies to order for a specific number of people. How many pies for say, ten people? What about fifteen? Twenty?! How do they know?! One way to figure it out is to pick a number and guess, but we wouldn't recommend it.
Ordering the wrong amount of pizza for a gathering can be stressful and unpleasant for everyone involved. If you order too much, you might end up throwing valuable slices away if you can't properly package it to store for leftovers. Not enough? That's even worse, as some people may go hungry or pass on going back for seconds even though they haven't yet had their fill. When you order just the right amount of pizza for an event, everyone is happy, content, smiley, and you may even end up with an extra slice to save for yourself for later.
So, how do people figure out how much to order? It turns out that with a question as old as time, there's actually a mathematical formula to help you determine the proper quantity. That's right, pizza-math.
It's easy to do, just grab your phone's calculator and get ready. Multiply the total number of guests you're expecting by the fraction of 3/8. This works perfectly with Hungry Howie's® 8 slice, 16-inch pizzas as the equation assumes each pie has 8 pieces, and that each hungry guest will consume approximately three slices.
Exceptions to the rule include having a large number of children as guests (instead, assume each child will eat 2 pieces instead of 3), or hosting an event at an off-peak time (such as 10 am, though we love pizza all day long).
Order a 16-Inch Pizza from Hungry Howie's® Today
Order a Hungry Howie's® pizza today, for takeout or delivery. If you're feeding a group, we recommend the XL 16-incher, which contains 8 slices. Virtually any pie on our menu can come in an XL, so whether you're in the mood for a classic plain cheese pizza, pepperoni, sausage, or a veggie-packed pie, we have you covered.
Order online for pick-up or delivery, or give us a call today. We'll make sure that your order is ready to go at the time you expect, ready to fill everyone's bellies.