Image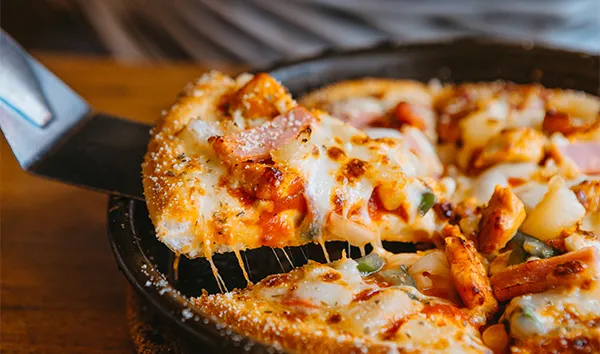 Pizza is one of the most common fast food options out there. Most people love the cheesy, affordable taste of a slice of pizza. However, some restaurants are pushing the boundaries and offering high-end pizzas that can leave your wallet crying.
Creating an expensive version of foods is not something new. But, it seems like when chefs mess with pizza, the price point can go high rather quickly. Be prepared to be in absolute shock when you see the price of these pizzas.
Maze Pizza – Maze Restaurant, London
Price: $78 - $129
When you are paying for a pizza from the restaurant of Chef Gordon Ramsay himself, you can expect a higher price point. His signature Maze pizza goes for £100 ($129) and above. It is topped with shavings of a very rare white truffle shipped from Italy, pancetta, Italian onion puree, white truffle paste, fontina cheese, baby mozzarella, cep mushrooms, and fresh herbs. However, $129 is just the base price, as the truffle is shaved tableside by head chef Jason Atherton, until you say "enough." This can boost the price of your pie since a kilogram of this rare truffle is worth up to $2,500.
The C6 – Steveston Pizza Company, Richmond, BC
Price: $450
This food chain from British Columbia knows how to make a pizza special. Their C6 pizza, which retails for $450, is topped with smoked salmon, tiger prawns, lobster thermidor, and black Alaskan cod, with a side of Russian Osetra caviar. The high price is not a huge surprise for this luxurious combination. In fact, the C6 pizza is one of the most eaten pizzas at the restaurant.
SeeNay Pizza – Steveston Pizza Company, Richmond, BC
Price: $850
As if offering the C6 pizza wasn't enough, this food chain got familiar with expensive pizzas and launched another seafood lover's pie called the SeeNay. This pie, which goes for about $850, is topped with lobster ratatouille, Russian Osetra caviar, tiger prawns, Italian white truffles, and smoked Chilean steelhead. Because caviar is no longer enough these days.
The One Percenter Pizza – Nino's Bellisima Pizzeria, New York City
Price: $1,000
New York City is well known for the most expensive everything – hotels, apartments, diamonds, etc. But, it also hosts one of the most expensive pizzas in the world. Nino's Bellisima Pizzeria offers a decadent pizza creation for $1,000. The thin crust pie is topped with $820 worth of six different types of caviar, including Beluga and Black Russian Royal Sevruga, crème fraîche, and sliced Maine lobster.
'Not-So-Poor Man's' Pizza – Margo's Mistra Bay, Malta
Price: $2,400
If the name doesn't give it away, the price definitely will. This pizza retails for a whopping $2,400. It was introduced to this world in 2010 and quickly joined the Guinness Book of World Records. The white pizza is topped with 24-karat gold leaf, of course, fresh organic water buffalo mozzarella, and Italian white truffles that have been flown in daily from Alba in Piemonte within 8 hours of harvesting. It is served with a limited edition bottle (1 of 200) of Farsons lager. Because the truffles are flown in, you need to give the restaurant a week's notice if you plan on ordering this tasty, expensive pie. It is said the majority of proceeds is donated to charity.
24K Pizza – Industry Kitchen, New York City
Price: $2,000
New York City, again. This pizza restaurant located in the Financial District knows how to create an incredibly expensive pizza that will get the world talking. Considered by many to be the most expensive pizza in the United States, the 24K Pizza definitely lives up to its reputation. With a whopping retail price of $2,000, the golden pizza is a thin crust creation topped with foie gras and truffles from France, white Stilton cheese from England, Ossetra caviar from the Caspian Sea, and the crowning ingredient, flaked 24-karat gold leaf from Ecuador.
Pizza Royale 007 – Oro, Glasglow
Price: $4,200
Created by Domenico Crolla and named after James Bond himself, this pizza must live up to a reputation of extravagance, luxury, and danger. For $4,200, you get a 12-inch pizza with a sun blush tomato sauce base, topped with Scottish smoked salmon, caviar soaked in Dom Perignon, venison medallions, cognac-marinated lobster, vintage balsamic vinegar, and the finest prosciutto. And, of course, topped with 24-karat gold flakes.
Pizza for Lovers – Favitta's Family Pizzeria, Henrietta, NY
Price: $8,180
This family restaurant definitely knows how to make expensive pizza. The so-called "pizza for lovers" pie goes for $8,180. At first glance it seems like a regular pizza, and its ingredients don't go past your tasty tomato sauce and cheese with your choice of toppings. However, it is a secret ingredient that makes their heart-shaped pizza so expensive – diamonds. The pizza comes in two variations, one is topped with diamond powder, and the other one comes with an actual diamond ring and a bottle of Dom Perignon champagne. Who can say no to a proposal like that?
Louis XIII Pizza – Renato Viola, Salerno
Price: $12,000
Finally, the world's most expensive pizza. You will be genuinely shocked when you see the price tag of this pizza. The Louis XIII pizza costs $12,000. It takes over 72 hours to make this pizza, and perhaps the whopping price is related to how it's actually made. When you order this pizza, a pizza chef, sommelier, and exclusive limited-edition cutlery and plates arrive at your home in Italy to prepare the pie (The crust is made 72 hours in advance.) The pizza is topped with three types of caviar, organic buffalo mozzarella and 7 other cheese varieties, Australian pink salt from the Murray River, prawns from Cilento, mantis shrimp, and lobster. Remy Martin Cognac Louis XIII and a bottle of vintage 1995 Krug Clos du Mesnil champagne are your accompaniments. For $12,000, you better get ready for a God-like experience.
When we think about putting money aside for pizza, we grab about $10 to $20 tops. But these restaurants have gone the extra mile with their outrageous creations. How much would you pay for a pizza?
Sources: http://www.dailymail.co.uk/news/article-364951/Gordon-bleu-Its-Ramsays-100-pizza.html
http://www.dominos.jp/eng/pizza/detail/99999/19001/1627
http://slice.seriouseats.com/archives/2012/06/steveston-pizza-co-brings-a-450-pizza-to-british-columbia.html
http://www.dailymail.co.uk/news/article-364951/Gordon-bleu-Its-Ramsays-100-pizza.html
https://luxurybc.ca/food/seenay-pizza-steveston/
http://www.huffingtonpost.com/2012/06/21/1000-pizza-ninos-pizza-new-york-city_n_1615538.html
http://californialoves.co.uk/2015/09/02/pizza-at-margos-malta/
https://www.thrillist.com/eat/new-york/industry-kitchen-nyc-most-expensive-pizza
https://www.alux.com/worlds-most-expensive-pizza/
https://www.pizzamarketplace.com/news/favittas-offering-pizza-for-lovers/