Image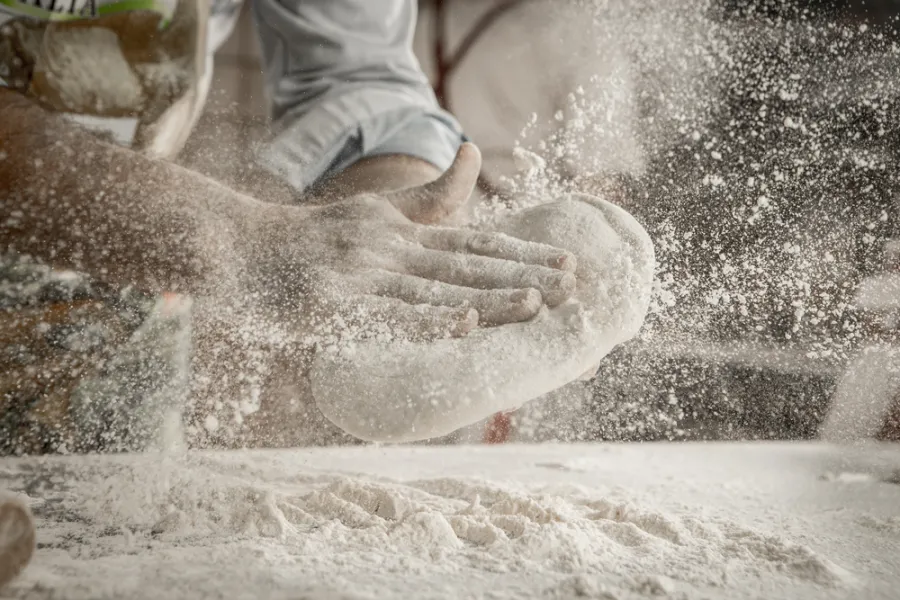 The inventor of pizza is a highly debated topic amongst foodies and historians alike. Many people credit baker Raffaele Esposito from the Naples region of Italy for first creating the dish. Others believe that the history of pizza dates far further back than Esposito's era of the late 1800s. Much of the debate comes down to what you consider a "real pizza" and the evolution of food over the centuries.
Here at Hungry Howie's®, we're open to all the possibilities of how the cheesy pies came to be and love to see the progression of the much-loved dish throughout the years. We're here to share some serious pizza history with you, including information regarding the inventor of pizza (or the inventors, possibly).
Who Invented Pizza First?
Raffaele Esposito's pizzas were so famous that in 1889 Italian King Umberto I and Queen Margherita requested that he make them a special pie. The ingredients comprised much of what we associate pizza with today. A simple dough, fresh tomatoes, mozzarella cheese, and fresh basil. Now, we commonly refer to this pizza as the Margherita pie.
However, there's some controversy surrounding whether or not Esposito indeed "created" pizza himself. For many years, street vendors in Naples created flatbreads with toppings to sell in open-air markets. The vendors topped these flatbreads with ingredients ranging from vegetables to meat and everything in-between.
At Hungry Howie's®, we think that's incredibly exciting. We're proud to be part of such a food dynasty, continuing ancient traditions today. If you're looking to "build your own pizza near me" like so many people of the past, place your order with us today.
Where Was Pizza Invented?
While Esposito is commonly credited for inventing pizza in Italy, many historians disagree that Italy was where the first pizzas hit the streets. Many ancient cultures, including Greek, Egyptian, and the Roman Empire, are believed to have eaten very similar dishes.
Some historians even note that Israelites and the ancient Babylonians probably consumed versions of the pizza dish we know and love today. Flatbreads with toppings have been a favorite food throughout much of civilization.
Hungry Howie's® pays ode to these delicious ancient "pre-pizzas" with our very own Flatbreads. Our Flatbreads come with our famous Flavored Crust® of your choice, 100% mozzarella, and pizza sauce. Then, you can add all your favorite toppings to create a unique and tasty meal.
When Was Pizza Invented In America?
We know that pizza was popping up all over Italy in the late 1800s. However, many historians date the dish's origins to be much earlier than that. But when did pizza finally make it to America? It's probably a lot later than you think.
First, Italians took the dish to other countries, like Spain, France, and England, as they immigrated to other parts of Europe and the U.K. The United States then comes last on that list as immigrants headed overseas. The first mention of pizza in America came in 1905 when Gennaro Lombardi opened the first pizzeria in New York City.
However, it still took quite some time for the food to catch on. While early American pizzas were limited mainly to areas of the Northeast, they began to spread quickly across other regions of the country as soldiers returned from World War II.
As soldiers searched for foods they were accustomed to eating overseas during the war, the demand for pizza increased substantially. Finally, in the late 1940s, the cheesy, doughy, saucy dish gained widespread popularity. By 1950, pizzerias were popping up all over the United States, with large dining booths and brick ovens in many neighborhoods.
Pizza in America Today
It's easy to see why pizza caught on so quickly, becoming a staple food in America in such a short span of time. It's easy to grab and go, easy to eat, and can feed a large group. It's the perfect meal to pick up on the way home from work or to order for delivery when you've had a rough day at home.
Kids and adults love it, and it's a sure way to bring the family together for smiles and great conversation. This is what makes pizza such a timeless, classic American dinner. Today, more than 13% of the U.S. population consumes pizza on any given day. We consume more than 3 billion pies a year, creating a $38 billion industry.
The statistics may be astounding, but if every pizza eaten was averaged out among individuals, each person in America would consume approximately 40 entire pizzas a year. That's right; all those slices sure do add up. The average person will eat 6,000 slices of pizza in their lifetime. When you do the final breakdown, Americans consume about 350 slices of pizza per second, which is quite impressive if you ask us.
What does this mean for current pizza restaurants? Today, there are more than 9,000 pizzerias in New York City alone, and 17% of the country's total number of restaurants are pizzerias. The total number of pizzerias in America? It's approximately 70,000 and growing.
Hungry Howie's® is proud to have an established history in the United States. James Heam opened our first store in 1973 in Taylor, Michigan. Today, there are more than 550 Hungry Howie's® locations nationwide.
Grab a Slice From Hungry Howie's® Pizza Today
If you're looking for "pizza delivery near me," there's likely a Hungry Howie's® near you. With locations throughout 22 states, we're the 11th largest pizza chain in the entire country, and we're still growing.
We're also the inventors of the famous Flavored Crust®, which you can add for free to any pie or flatbread. There's something for everyone with eight different flavors to choose from, like ranch or Cajun.
So, if you're hungry for pizza, place your order for takeout or delivery today. You can order Hungry Howie's® online or call and place an order. When you order online, you can use the hand Howie Track® feature to see your food's journey each step of the way, from the oven right to your door.
We have so much more than amazing pizzas. To bring home the perfect meal, pick from our fresh salads, chicken tenders and wings, oven-baked subs and pasta, cheesy bread, and so much more. Complete the meal with soft drinks and dessert, and bring home something to please the entire family today.