Image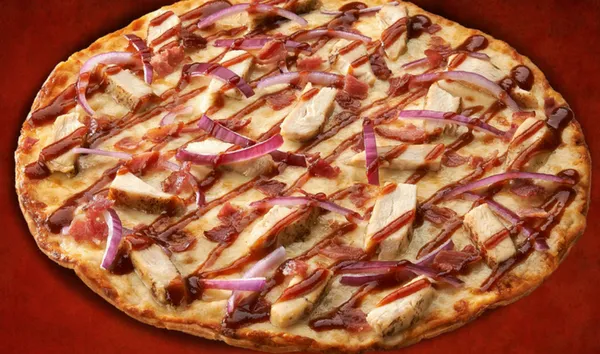 BBQ chicken pizza is so popular these days that we never stop to think who created this delicious creation. Whether you agree with this unlikely combination or not, you have to give credit to the creator of such an odd pairing. If you believed BBQ chicken pizza was a new, millennial creation, you were wrong! Believe it or not, BBQ chicken pizza was created back in 1985.
It turns out, the first ever BBQ chicken pizza creation belonged to California Pizza Kitchen's first menu. This outrageous, now famous creation was invented by the acclaimed pizza chef, Ed LaDou.
LaDou was a famous chef who used to work for Wolfgang Puck at his Spago restaurant in Los Angeles. His creations were out of this world, even to Chef Puck. As a pizza chef, LaDou's recipes included pizzas topped with smoked salmon, duck sausage, ricotta cheese, pate, mustard, and red peppers. At the time, these were considered way outside of the box for the pizza industry. Before anyone could notice, LaDou's pizzas became so popular, reservations at Spago were almost impossible to get.
In 1985, LaDou was approached by Larry Flax, co-founder of California Pizza Kitchen. The first menu featured pizza combinations like Thai chicken, Jamaican jerk chicken, and the original BBQ chicken pizza.
The original BBQ chicken pizza recipe included shredded chicken, homemade BBQ sauce, onions, cilantro, and fontina cheese.
LaDou went on to open his restaurant called Caioti Pizza Café, where he continued to expand his pizza repertoire. After his passing in 2007, his wife and daughters continued serving his unique pizza creations at Caioti. Some of his most famous pizzas feature toppings such as gorgonzola, porcini, ground American bison, scrambled eggs, hash browns, and of course, the famous BBQ chicken pizza!
Today, many pizza restaurants feature their version of the BBQ Chicken Pizza by adding their unique sauces, additional toppings, and more, but the main original ingredients remain true. Hungry Howie's BBQ Chicken pizza features our sweet BBQ sauce, grilled chicken, onions, savory bacon, and mozzarella cheese. The question is – what crust will you choose? 
Sources: http://articles.latimes.com/2008/jan/04/local/me-ladou4
https://www.thedailymeal.com/eat/11-things-you-didn-t-know-about-california-pizza-kitchen-slideshow/slide-8
https://www.chowhound.com/post/invented-buffalo-chicken-pizza-topping-1056370