Image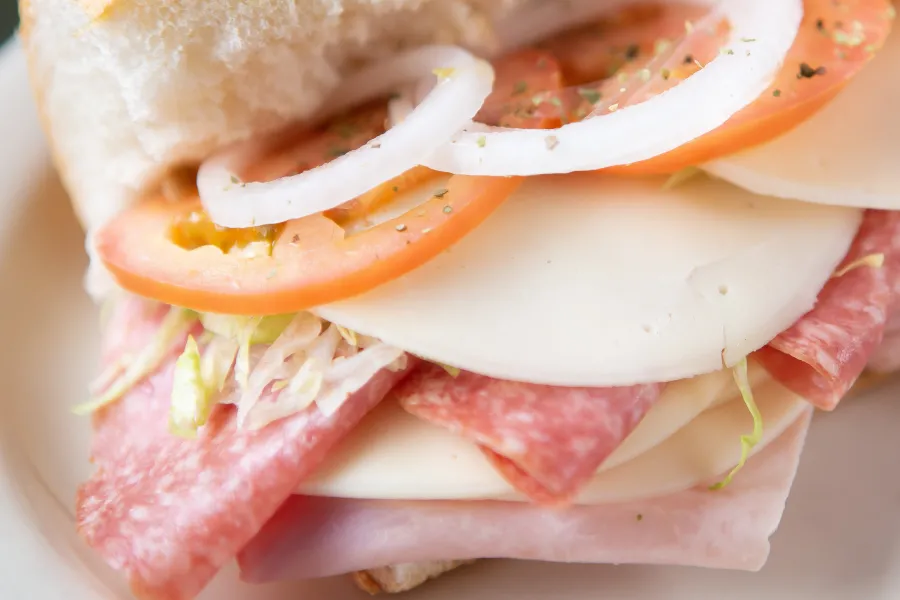 What is on an Italian sub? This iconic submarine sandwich is a classic of Italian-American cuisine. Italian sub sandwiches were first prepared in Italian-American communities during the late 19th century in the Northeastern United States and are now widely enjoyed all over the country.
It combines cured meats and cheeses with crunchy vegetables, seasonings, and tangy Italian dressing and is served hot or cold. People love having this versatile food for many different occasions, from parties to family dinners to office lunch hours. Whether you call it a sub, hoagie, or grinder, we can all agree that it's delicious.
At Hungry Howie's, we know a thing or two about tasty oven-baked subs. We've been making Italian subs for a long time, and it's one of our most popular sandwiches. We have you covered with a breakdown of all the ingredients on hot and toasty Italian subs.
What Is on an Italian Sub?
Sub enthusiasts may quibble on what exactly goes in an Italian sandwich. There's general agreement that it contains cured meats and cheeses, vegetables, spices, oil, and vinegar. Often an Italian sub sandwich recipe will contain:
Salami
Ham
Pepperoni
Mozzarella or provolone cheese
Peppers (fresh, banana peppers, pepperoncini, etc.)
Iceberg Lettuce
Tomatoes
Salt and black pepper
Oil & red wine vinegar or Italian dressing
What makes an Italian sub so delicious is the contrast of textures and flavors of these mouthwatering ingredients. Thinly shaved meats are piled high and topped with a slice of smoky mozzarella. The softness of the meats and cheeses provides a pleasing contrast with the crunchiness of fresh or pickled vegetables. Italian dressing adds a more complex, tangy flavor and enhances the natural tanginess of the cheese.
You'll find these sandwich fillings folded into soft Italian bread or served calzone-style at pizza and sub shops.
Why Italian Subs Make Great Party Sandwiches
People love serving Italian subs at parties. They're delicious and feel more special than the boring, everyday sandwiches that you pack for lunch. Plus, Italian subs are well-constructed and portable, making them easy to eat at a party.
To turn your Italian subs into the perfect party food, try slicing the sandwich into smaller portions and use toothpicks to hold them together. That way, no one has to commit to a whole sandwich, and your guests will have room for the other party foods you are serving.
Why Italian Subs Make Great On-the-Go Meals
Whether you're enjoying a beach day or going to the office, an Italian sub is the perfect make-ahead meal. If you prepare your Italian sub properly, it can last for hours and taste just as great as when you first assembled it. Plus, it's a more exciting option than bland turkey sandwiches. The only danger with making your Italian sub in advance is soggy bread. Read on to find out how you can prevent this Italian sub disaster!
Tips for Avoiding Soggy Bread
While the Italian sub is great for a make-ahead meal or a party, you have to ensure the bread does not get soggy. There's nothing worse than unwrapping your mouthwatering Italian sandwich only to find that the bread is wet. Moisture can turn your culinary masterpiece into inedible mush.
If you follow a few tips, you can make an Italian sub for your lunchbox or gathering that will taste just as good as when you first made it.
Instead of putting a dressing or oil and vinegar directly on the sandwich, serve it on the side. When you're ready to eat, you can dip your sandwich in the dressing or pour it straight on.
Follow the original Italian-American sub-makers who would cover the bread with a layer of cheese to protect it.
Spread a layer of butter or condiments on the bread, though Italian sub purists may quibble with this sandwich addition.
Toast the bread before you assemble the sandwich.
Soggy subs make us sad, so we hope these tips help you prevent a sandwich disaster from striking your kitchen!
Hungry Howie's Oven-Baked Italian Subs
Hungry Howie's is proud to offer this delectable Italian-American classic to hungry sub lovers everywhere. Every Hungry Howie's sub is oven-baked and served calzone-style. That means our subs replace traditional Italian bread with our freshly made pizza dough. The dough is folded over like a calzone and baked. The result is a toasty, cheesy calzone-style sub that is highly crave-able. A Hungry Howie's Italian sub tastes SO good when prepared this way.
We only use high-quality ingredients to make our subs. Our Italian sub combines flavorsome ingredients like salami, ham, pepperoni, and mozzarella, nestled inside our freshly made pizza dough. It comes with a side of Italian dressing for dipping. You can select whether you want the lettuce, tomato, and peppers that come with it. Let us know if you want these veggies on the side. Additionally, you can select other veggies, such as mushrooms, green peppers, black olives, jalapenos, red onion, or mild peppers. We think the best Italian sub is whatever tastes great to you.