Image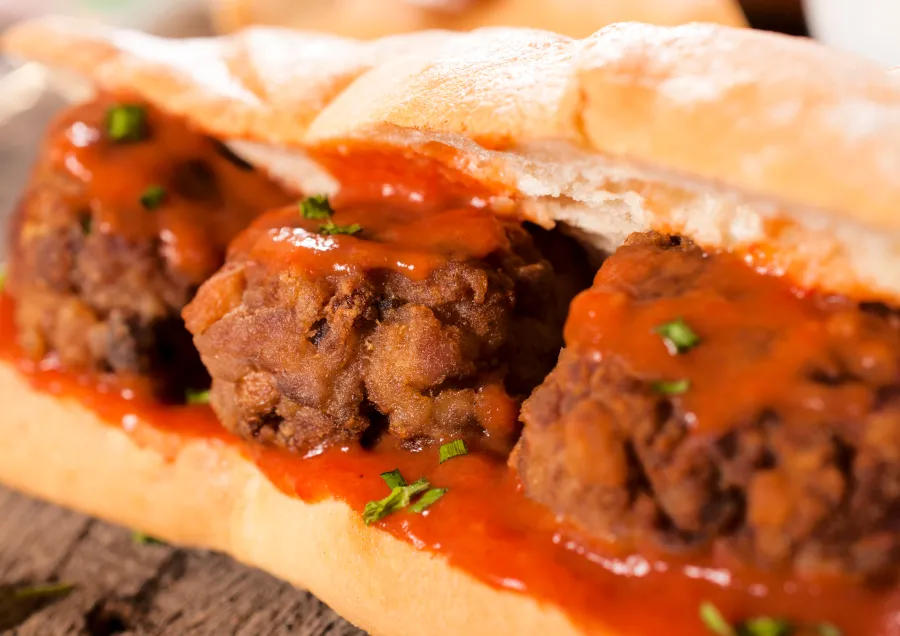 Sub lovers everywhere debate the best cheese for a meatball sub. Most people stick to Italian cheeses for this iconic Italian-American classic. They also want cheeses that will melt well and result in a satisfying cheese pull. The cheese should have a delicate flavor that will not overshadow the juicy meatballs in zesty marinara.
That narrows it down to provolone or mozzarella cheese, the most popular choices at delis and restaurants from coast to coast. But which one is best?
No matter which Italian cheeses you use to make a meatball sub sandwich, the other essential components are succulent meatballs covered in a zesty marinara sauce and tasty bread. These hoagies are best served hot and need to be heated long enough to melt the cheese.
At Hungry Howie's, we put a lot of thought into the best cheese for a meatball sub, and we have you covered with all the important answers to your cheesiest meatball sub questions.
The Best Cheese for a Meatball Sub
Whether you use mozzarella or provolone, you'll probably end up with a tasty sub, but let's break down which cheese will help you make the absolute most delicious sub ever.
Mozzarella cheese. It's the classic choice. Creamy and mild, the cheese perfectly complements the spicy and zesty flavors of the Italian meatballs in marinara. Mozzarella melts perfectly, and it also has the benefit of being popular and widely available.
Provolone cheese. This cheese is similarly mild but has a more nutty and slightly spicy flavor. Provolone is a good choice for anyone who prefers this cheese or wants to add more robust flavors to their sub.
Parmesan cheese. It's popular to finish a meatball sub sandwich with a sprinkling of parmesan. The cheese's salty, more pronounced flavor makes the flavor profile more interesting.
Mozzarella and parmesan cheese are the more popular, crowd-pleasing combo, but provolone lovers can't get enough of their favorite cheese's bold flavors.
People also wonder whether it's better to use grated or sliced cheese. Sliced cheese allows a more targeted approach. You can sprinkle cheese where you want it and in the exact amount you like. Covering it with slices of cheese will create a satisfying sheet-like covering that envelops the meatballs. Whether you cover your sub with mozzarella shreds or slices of provolone cheese, you can't go wrong.
No matter what cheese you serve, your sub will taste best with gooey melted cheese. You can achieve this by putting the sub under a broiler for a few minutes or zapping it in the microwave. If the marinara sauce is hot enough, it may melt the cheese on contact.
Cheese hack: cover the bread with cheese to let it act as a barrier between the bread and the sauce. Meatball sub experts use this trick to prevent soggy bread. It's a great tip if you like extra sauce.
The Best Toppings for a Meatball Sub
Meatball sub sandwiches are delicious enough when served with nothing more than Italian meatballs, sauce, and cheese on a hoagie roll. In fact, some sub purists love its simplicity and think that's the best way to eat it. Others want more complex flavors and textures and like to add meats or veggies or serve it with sauce for dipping, such as marinara sauce.
Popular veggie toppings for meatball subs include:
Red onions
Black olives
Banana peppers
Green peppers
Jalapenos
Mushrooms
Some people even add meats, such as salami, pepperoni, or bacon. Oregano, salt, and black pepper are popular seasoning options. You can finish your meatball grinder with a sprinkling of chopped fresh parsley or basil, but then you have to eat the sub with your pinky in the air. Sorry! We don't make the rules.
Reheating Leftover Meatball Subs
There's nothing sadder than a delicious meatball sandwich going to waste. If you're overly ambitious in estimating how many heroes you and your friends can eat, don't worry. Meatball sub sandwiches taste great when reheated, and they're easy to reheat.
Oven instructions (preferred method): Preheat your oven to 350 degrees. Wrap it in foil, and then place it in a baking dish. Bake it for 10 minutes. After removing the foil wrapping, bake it for an additional 5 minutes.
Microwave instructions: Microwave your sub on high for 90 seconds. Keep reheating it for 30-second intervals until it is heated all the way through.
Hungry Howie's Meatball Subs
Hungry Howie's is #teammozzarella when it comes to meatball subs, but what's most important is making you the perfect Hungry Howie's meatball sub. We combine our tender meatballs, rich tomato sauce, melty mozzarella, and butter garlic sauce and nestle them inside our famous calzone-style sub. We're always happy to add other meats and veggies to make it just how you like it.
You can customize the sub, which is essential if you've got strong feelings about the best cheese for a meatball sub. You have so many options to get just the right cheesy goodness on your sub.
Mozzarella
Parmesan
Cheddar-mozz blend
We make it easy to get just the right amount of cheese. When you order online, select lite, normal, extra, or x 3 to let us know how high to pile on the cheese. You can even order it with no cheese. Even though we're wild about cheese, we won't judge you! Simply ensure that all the cheeses are unselected when you're customizing your online order. We have everyone covered, from cheese lovers to cheese-phobes. No matter how much cheese you put on it, it's going to be one epic sub.