Image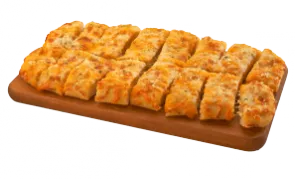 What is bread cheese? Also commonly referred to as cheese bread or cheesy bread, the dish is a delicious recipe comprised of fluffy, warm baked bread and a savory, hearty cheese filling. There are countless ways to customize cheesy bread, with endless dipping sauces and filling combinations.
Here at Hungry Howie's®, we have a wide assortment of cheese bread. It's famously known as our Howie Bread®, and there's a combination on the menu that everyone must try. Keep reading to learn more about the technique behind our Howie Bread®, as well as the many options available on our menu.
If you can't wait until the end of the article, we can't blame you. Click "cheesy bread delivery near me" now and order your favorite from Hungry Howie's®.
What Exactly Is Cheesy Bread?
Cheesy bread makes an excellent appetizer or side dish for any pizza night. In fact, pizza and cheesy bread are one of the most common multi-item orders we receive regularly. Our cheesy bread pulls apart into 16 shareable pieces so you can enjoy an order with the family or keep some for yourself for much-loved, next-day leftovers.
The best recipe for cheesy bread, in our opinion, is Howie Bread®. We say this not because there are so many different combinations suitable for any palette but because we hold our Howie Bread® to the highest standards during preparation and baking.
The Hungry Howie's® Cheesy Bread Technique
When it comes to making cheesy bread, there are many important factors. Of course, getting the dough recipe just right is essential. Here at Hungry Howie's®, we make our dough fresh, in-house daily. Then comes the cheese stuffing. When you grab an order of Howie Bread®, you can rest assured that we use 100% real mozzarella cheese, which not every restaurant can say.
Then comes the technique. We perfectly stuff Howie Bread® to provide the perfect cheese to bread to filling ratio. You'll get an out-of-this-world bite every time. Our cheesy bread includes a brushed topping of melted butter, garlic, and a sprinkle of Parmesan cheese, which gets toasted to the ultimate perfection.
Different Types of Cheesy Bread
We have you covered whether you're in the mood for meat, peppers, extra cheese, or even something spicy. There are more than ten Howie Bread® items on the menu. You can order them as an app to share before the game, as a side for family pizza night, or even as a delicious dessert option.
Here are our three favorite Howie Bread® menu items and why we love them.
Pepperoni Stuffed Howie Bread®
Pepperoni is America's favorite pizza topping (aside from cheese). It makes sense that it's also a hit in our cheesy bread. Featuring all the best parts of pizza (hello fresh dough, sweet sauce, and ooey-gooey cheese) and a delicious amount of pepperoni, this is a meat lover's cheesy bread for sure.
The Pepperoni Stuffed Howie Bread® is stuffed with pepperoni, mozzarella, and cheddar cheese. We then top the baked bread with a combination of butter, garlic herb & Parmesan.
Bacon Stuffed Howie Bread®
It may have bacon, but this is no breakfast bread — unless that's what you're craving in the early morning. If that's the case, we say heat some up. The bacon provides a perfect slightly-crunchy bite that's savory, complementing our sweet tomato sauce.
The Bacon Stuffed Howie Bread® contains bacon, mozzarella, and cheddar cheese. We top this bacon cheesy bread with butter, garlic herb & Parmesan.
Jalapeño Stuffed Howie Bread®
If you're in the mood to skip the meat and load up on veggies, like these ultra-spicy hot peppers, the Jalapeño Stuffed Howie Bread® is for you. Pizza night is often full of heavy carbs, perfectly salted cheese, and sweet sauce. The kick from the jalapeños in our Jalapeño Stuffed Howie Bread® is an excellent contrast to the classic Italian-American flavors. Spice things up with this order of cheesy bread.
Ingredients include jalapeños, mozzarella, cheddar cheese, and our classic topping of butter, garlic herb, & Parmesan.
However, we don't stop at these three cheesy bread options. Check out other Howie Bread® classics like our 3 Cheese Howie Bread®, our Cajun Howie Bread®, the Asiago Howie Bread®, our famous dessert Cinnamon Howie Bread®, and more.
What about the Sauce?
Cheesy bread, such as our very special Howie Bread®, is never complete without a good dipping sauce. At Hungry Howie's® we have a seemingly endless array of sauces to try with your order. Many customers choose our classic marinara dipping sauce. But, if you're looking to expand your horizons and shake up pizza night a little bit, check out some of these other dipping sauce options:
BBQ Sauce
Buffalo Sauce
Cheese Sauce
Garlic Sauce
Bleu Cheese Dressing
Ranch Dressing
And more
Where Can I Get Cheesy Bread?
Look no further than Hungry Howie's® for the best cheesy bread around. Our selection of delicious 16-piece Howie Breads® is sure to please everyone at the dinner table tonight. Keep it classic with a plain cheese filling, elevate your selection with some pepperoni or bacon, or really fire things up when you choose our Jalapeño Stuffed Howie Bread® and more.
Our 16-piece Howie Bread® menu items are the perfect addition to any meal. The kids can share, no matter how many little hands are grasping for the tear-apart pieces. You can share with your buddies after a long night out or order Howie Bread® just for yourself. There's no meal it doesn't complete, and no wrong way to order.
Don't forget about additional menu items we have to create a filling and delicious dinner. Of course, there's our famous Flavored Crust® pizza. We also have a selection of fresh salads, oven-baked subs and pasta, flatbreads, wings and chicken tenders, soft drinks, and even desserts.
Order online or give us a call for take-out or delivery today. Find a Hungry Howie's® location near you to get your order as soon as possible. And don't forget to let us know which Howie Bread® is your favorite!