Image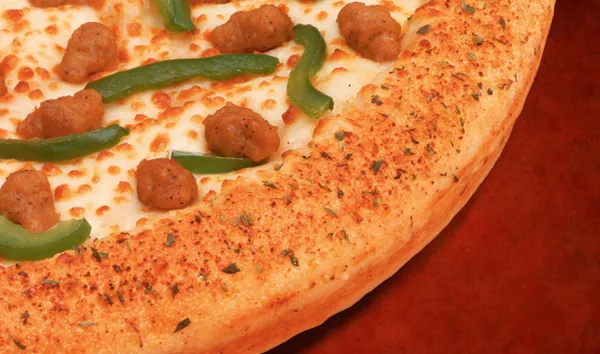 Taste the perfect fusion of delicious toppings with our popular garlic herb flavored crust, delightfully baked to perfection. When it comes to building your own pizza the combinations are endless. Pair your delicious Italian-style garlic and herb crust pizza with any of these tasty toppings for the ultimate pizza experience.
Tomato
Although your pizza already has tomatoes, adding an extra layer of fresh, vine-ripened tomatoes makes a big difference. High in vitamin A and C, tomato slices are basically required for a garlic and herb crust pizza.
Black Olives
If you want to achieve that Mediterranean taste, top your garlic crust pizza with some black olives and extra parmesan or feta cheese. Black olive's bitter, salty taste works perfectly with the garlic's nutty flavor.
Grilled Chicken
Lean grilled chicken adds a ton of protein without a ton of fat. Pair it with BBQ sauce for a tasty barbecue chicken.
Italian Sausage
Add some flavor with a traditional Italian pork sausage, and get the extra protein you need in your pizza. The garlic crust provides the perfect canvas for an Italian pizza with black olives, green peppers, Italian sausage, and pepperoncini peppers.
Pepperoni
Garlic, herbs, and pepperoni seamlessly go together. There's a reason why pepperoni ranks as America's preferred pizza topping. This spicy sausage is the ideal topping for any pizza combination.
Steak
For the meat lovers, try delicious tender slices of steak, sautéed onions, fresh green peppers, and fresh mushrooms on a freshly baked garlic and herbs crust pizza.
Want to try another delicious Flavored Crust® creation? Check out our topping suggestions for our Asiago Cheese Crust and our Butter Parmesan Crust!
Sources: http://www.webmd.com/food-recipes/features/health-properties-tomatoes#1
http://www.foxnews.com/food-drink/2016/02/26/this-is-americas-favorite-pizza-topping.html