Image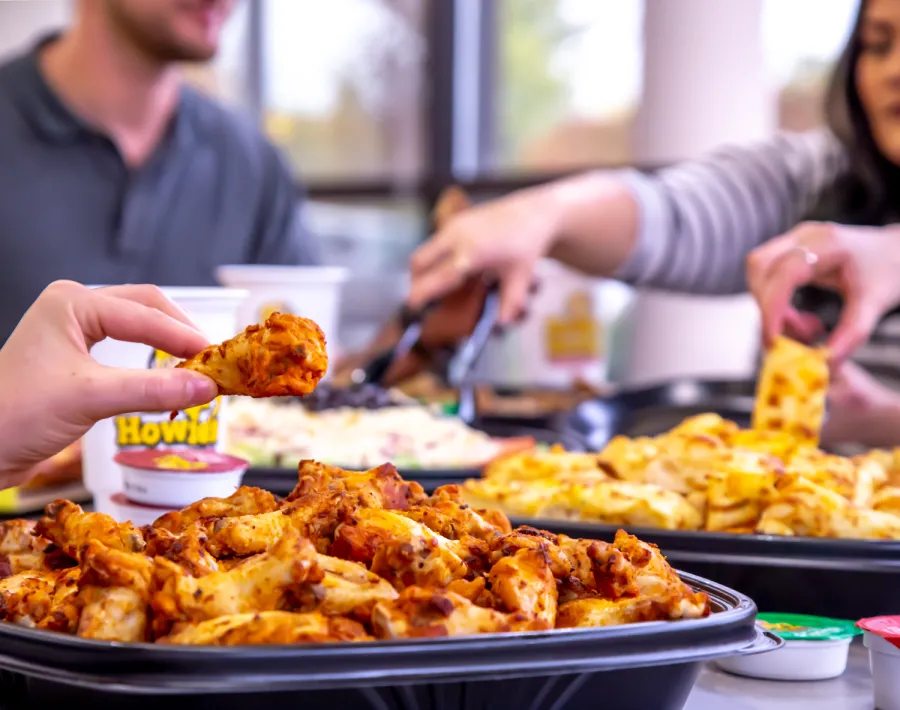 Expand your palette when you try our unique chicken wing flavors with your next order. You're probably used to either mild, moderate, or spicy wings with dipping sauces like bleu cheese or ranch dressing. Many people love plain chicken wings, but classic Buffalo Chicken Wings are the most popular order.
But did you know that there are flavors beyond plain or Buffalo wings? With Howie Wings, you'll find unique chicken wing flavors that will surely please the crowds. We've spent years perfecting the most incredible recipes to bring you the most elite flavors on the menu. Check out the different options and give them a try!
3 Non-Traditional Chicken Wing Flavors
At Hungry Howie's, you'll find three unique chicken wing flavors to get your hands saucy. You'll still find more traditional offerings on our menu, like the Original Howie Wings and Buffalo Howie Wings.
The Original Howie Wings are light on the sauce if you're not crazy about bringing wet wipes to the table. They have a mild flavor without all the sauce, and you can mix and match them with a dipping sauce of your choice.
The Howie Buffalo Wings have a bolder taste profile and are the most traditional order in America. The wings are packed with flavor, a little spicier than our mild Original Howie Wings, and you can still add your favorite dipping sauces on the side.
But we go way beyond traditional wing flavors. On the Hungry Howie's menu, you'll find three unique chicken wing flavors for your next order.
Check them out here.
1) Asian Howie Wings
Our Asian Howie Wings are juicy and flavorful. Consider these if you want to step out of your comfort zone. The profile features a bold punch of spices, including chili pepper and other Asian-inspired spices. Pair them with our garlic dipping sauce for even more flavor.
2) BBQ Howie Wings
Everyone loves a good BBQ chicken wing, but ours are special. If you're in the mood for a rich, savory BBQ sauce but want a quick and easy dish requiring no cooking, these are the perfect solution. They're sweet and full of the goodness you expect from the best BBQ sauce. Add dipping sauces like extra BBQ or ranch for the greatest side dish ever.
3) Sriracha Howie Wings
Sriracha is a flavor that's exploded in popularity throughout recent years. The sauce is used on many dishes today, ranging from chicken to salad, eggs to pizza, and so many more. It's the most popular hot sauce in the United States, though it originates in Thailand.
The taste of Sriracha comes from a fantastic combination of a few simple ingredients. The traditional sauce brings together red chili peppers, vinegar, garlic powder, salt, and sugar. People love it because of the spice it brings to the table. It goes well with other Asian-inspired foods, like our Asian Chicken Pizza, but it stands alone great, too.
How to Level Up Your Unique Chicken Wing Flavors Even More
Now you have the run-down on the unique chicken wing flavors we have here at Hungry Howie's, along with our well-known classics. But there are ways that you can elevate your flavor punch even more. The best way to do this is by adding the best Howie Sauce on the side for dipping.
At Hungry Howie's, we have eight different sauces to order on the side. Some go better with wings than others, but we don't blame you if you want to explore even more unique flavor combos.
The eight side sauces available at Hungry Howie's include:
BBQ Sauce
Buffalo Sauce
Garlic Sauce
Ranch
Bleu Cheese
Pizza Sauce
Cheese Sauce
And even icing! (which you may want to save for dessert)
Order for Take-Out or Delivery Today
Howie Wings are an excellent option if you're looking for a small lunch or side to bring to a BBQ party. But they also go well with a complete meal you're bringing home for the family. Add them as a side that everyone can get excited about.
By bringing home our classic Howie Pizzas with your choice of our exclusive Flavored Crust, add a fresh salad or an oven-baked sub, a No-Dough Bowl, flatbreads or Howie Bread, and desserts like over-sized fresh baked cookies for dessert, and throw in a side of wings that feature one of our unique chicken wing flavors. We also have soft drinks and utensils to make your dinner as easy as possible.
Order for take-out or delivery today and give our Howie Wings a try.