Image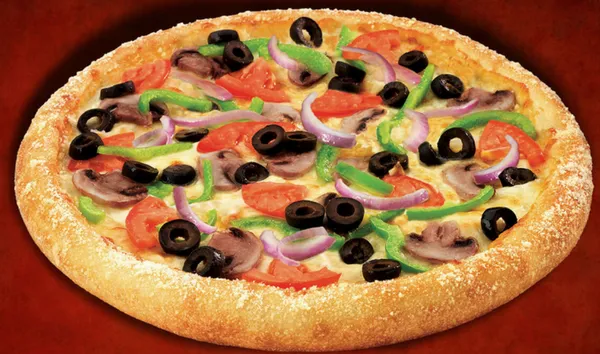 Pizza is a favorite for everyone around the world and with so many topping combinations, it can also be enjoyed by vegetarians. The variations of vegetarian pizza are endless, especially if combined with any of our signature Flavored Crust®. Here are a few unique vegetarian topping combos to try on your next order.
1.      Italian Veggie Deluxe Pizza
Ideal for any veggie lover out there, pair a garlic herb Flavored Crust® pizza with freshly sliced mushrooms, spinach, broccoli, onions, and fresh mozzarella cheese. Top it with garlic sauce for the finishing touch and savor the flavor.
2.      Veggie Aloha Pizza
While the debate about pineapple as a valid pizza topping is still very heated, there's no doubt a Maui pizza screams for pineapple. Choose an original pizza crust and top it with sweet pineapple, onions, and black olives for the ultimate Hawaiian experience.
3.      Spring Veggie Pizza
If veggies are your thing, pack a ranch Flavored Crust® pizza with every vegetable topping you can imagine. Start your topping selections with fresh mushrooms, onions, black olives, green olives, tomatoes, green peppers, and finish them up with some mozzarella cheese.
4.      Alfredo-Style Veggie Pizza
Alfredo sauce is perhaps one of the most beloved sauces out there. Create your own Alfredo-style pizza with a butter parmesan Flavored Crust®, topping it with spinach, mushrooms, onions, and mozzarella cheese. If you want to add an extra layer of flavor, finish your creation with delicious Alfredo sauce and extra parmesan cheese.
5.      Veggie Mexican Pizza
Add a kick of flavor to your vegetarian pizza with a Mexican-style veggie selection. Start with an original pizza crust and top it with fresh tomatoes, black olives, jalapeños, green peppers, onions, and extra cheese. If you are looking for a little extra spice, add some hot or mild peppers to make this pizza a real party.