Image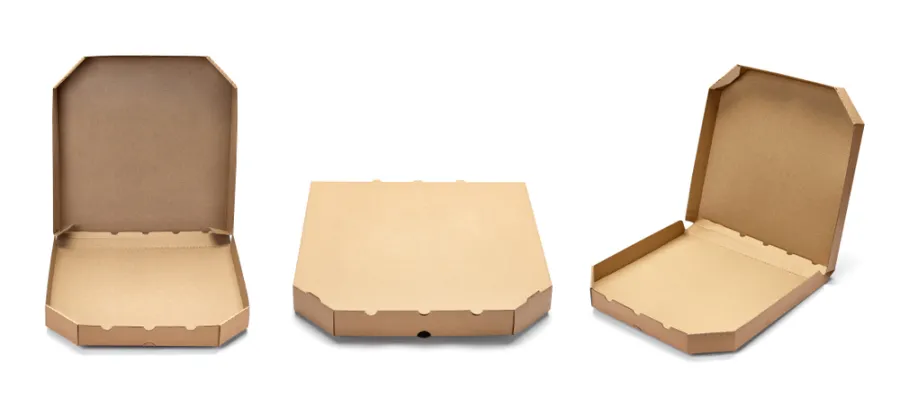 Pizza packaging has taken on a traditional form for decades–you pick up your hot and ready pizza in a square cardboard box to open on the table. But, like all things in life, conventional ideas and products evolve over time. The telephone, the car, and electricity come to mind. However, not everything is so drastic, and often tradition changes slowly but surely.
Innovating pizza packaging designs are beginning to hit the market, from store-bought freeze aisle styles to pizza delivery near you. Some of these ideas are more practical from a manufacturing standpoint, but others are creative fun concepts.
We're here to bring you the most innovative pizza packaging ideas, new designs we're seeing in the world of pizza, and trends that you'll likely see on the rise in the not-so-distant future.
Keep reading to learn more.
Thinking Outside the Box: Innovative Pizza Packaging Ideas
One of the most convenient pizza packaging ideas we currently see is the "pizza-by-the-slice" concept. This is one of our favorites, whether sold as individual slices or combined into a larger box with separate compartments. It's simple, but it makes so much sense.
Each slice has its own "box," making it easier to pass out pieces at parties, baseball games, and around the table. It's also the perfect way to make sure you don't steal someone else's cheese or pepperoni! It minimizes mess and can serve as a disposable plate instead of creating more waste.
We're also seeing this idea spread to reusable containers, where people can easily store their extra slices in a way that takes up less space in the fridge and makes it easier to grab and go the next day. Slice-shaped plastic food savers are another fantastic development we're seeing in the world of industry of pizza packaging.
Unconventional Pizza Packaging Designs
Another cool thing we're seeing is that traditional pizza boxes are now more likely to present forms of art. Instead of dull, brown, or white boxes with generic print, eclectic and seasonal designs are taking over.
Today, you're more likely to find pizza packaging that features iconic pop culture references, like characters from hit movies, silly cartoons, and catchy slogans like "Have a slice day!" They're entertaining and cute and make an impression on customers. Kids will ask for the superhero pizza, and you'll immediately know what restaurant they're referring to.
Practical and Stylish Pizza Packaging
With all the innovation in pizza packaging, retailers are making sure their boxes remain practical and functional while still remaining relevant. One common theme you'll likely see is the different colors of pizza boxes surrounding certain months.
Pizzerias now use their packaging to highlight special causes, such as breast cancer awareness month, autism awareness month, and more. If you start seeing pink pizza boxes pop up, you'll know the restaurant is honoring breast cancer month. Blue boxes often signify autism awareness month.
More than health and wellness-related styles, you're also more likely to see colored boxes around certain holidays. Red boxes take over around February, and green may take over around December. These pizza packaging designs retain their original practical function but add an element of style and consciousness to important events.
Packaging Trends: What's Next for Pizza Lovers?
When it comes to pizza packaging trends, it's hard to tell the future. Inventors are always out there drumming up the next big thing. Circular boxes, for example, are starting to pop up. Packages with custom artwork from local artists are gaining traction, too.
If you tune into television shows that highlight small businesses, start-up companies, and people with great new ideas, you will surely see innovation in the food industry. From waterproof pizza packages you can take to the lake to designs that keep your pies warm for a long time to keep them fresh, inventors are doing it all.
Which innovations rise in popularity are widely up to the consumer. What you like most and what other people buy most are the new trends that will prevail. If you see unique pizza packaging or storage options, grab them while they're on the shelves to show your support.
Order Take-Out or Delivery from Hungry Howie's Today
At Hungry Howie's, we love to see pizza innovations. After all, we're home to the original Flavored Crust, which has become our brand's hallmark. As a prominent leader in the pizza restaurant community, we love to see what's up and coming.
Order for take-out or delivery today and enjoy your favorite pie as you dream up new and fantastic pizza packaging ideas.