Image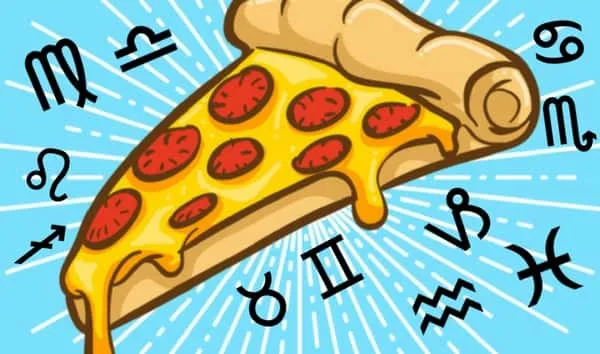 Your zodiac sign tells more about yourself than you might think. In fact, we might be able to guess your favorite pizza choice from your zodiac sign. Let's see what your pizza orders will look like in nearby 2018.
Aries (March 21 – April 19)
Aries is always on the run. When they want food, they want it fast. They need to order their pizza only from Hungry Howie's® where they know it will be delivered while the pizza order is still piping hot. Aries is bold, they prefer their pizzas topped with onions, pepperoni, roasted peppers and spicy sausage.
Aries pizza order: Thin crust cheese pizza topped with jalapenos and peppers.
Taurus (April 20 – May 20)
Taurus is stubborn, and no one can get in the way of their pizza order. They are determined to have the most delicious pizza feast each time. However, give them a thick, deep dish pizza crust, and they'll be happy. When Taurus thinks about balance, they are talking about having an extra layer of cheese and some meat on their pizza.
Taurus pizza order: One (or two) Deep Dish Meat Eaters pizza.
Gemini (May 21 – June 20)
Geminis like to experiment; they want to try a little bit of everything, and sometimes that means their pizza orders include pineapple with BBQ and a side of Howie Bread®. You could say a Gemini pizza looks like a garage sale, but no matter what, their pizza must be topped with pepperoni. But if you give a Gemini a pizza sampler, they will devour it in no time.
Gemini pizza order: A classic pepperoni with extra pepperoni.
Cancer (June 21 – July 22)
Cancerians are traditionalists at heart, very close to family, and will pretty much order pizza for every occasion. However, their parents ordered it when they were kids. Chances are if you're a Cancer, you still wear the same clothes style, you don't fancy change, and you care deeply about your health.
Cancer pizza order: A veggie pizza with extra veggies.
Leo (July 23 – August 22)
Leos are lions - they need meat to survive. When it comes to pizza, they want the most amount of meat they can add. Think pepperoni, ham, sausage, meatballs, and beyond. But, Leos are also daring. They like to try different, unusual pizza toppings, which is why they might fancy a pineapple pizza or a BBQ chicken pizza for a change.
Leo pizza order: A Howie Maui pizza when they want something new, and a Meat Eaters when they know what they want.
Virgo (August 23 – September 22)
If you are a Virgo, we bet you're a picky eater. It honestly takes you forever to order your pizza, which is why you always order online. But, you go up and down that customized pizza topping list three times or more. Nothing too crazy when it comes to toppings, it is best to stick with your basics to avoid having a bad experience later.
Virgo pizza order: One veggie pizza or a classic cheese pizza.
Libra (September 23 – October 22)
Libras enjoy beauty in everything. The fancier, the better; you like to try good-looking toppings on your pizza. You know the value of a great Flavored Crust®, and you don't mess up with your pizza order. You are all about balance, and your pizza topping choices need to align in perfect symmetry.
Libra pizza order: One large Howie Maui pizza.
Scorpio (October 23 – November 21)
Scorpios like to try new things, they are adventurous, and when it comes to pizza, they want everything they can possibly find. Since Scorpios like extreme adventures, they want some thrill when it comes to their pizza order. Whenever they get the chance, they make sure their pizza comes in Deep Dish form. Many times they will have others order their pizza, they just want to be surprised with the toppings.
Scorpio pizza order: One Works pizza, preferably in Deep Dish style.
Sagittarius (November 22 – December 21)
When it comes to Sagittarians, the more, the better. They are the ones who signed up for pizza eating competitions. They just love to eat, and to eat pizza. However, they don't just choose random toppings, they take their time choosing the right toppings. They like intriguing flavors and textures so they might want unusual pizza topping combinations.
Sagittarius pizza order: One large Cajun Flavored Crust® pizza with pepperoni, ham, and Italian sausage.
Capricorn (December 22 – January 19)
Capricorns are energetic and outgoing, and they love to impress their friends with good pizza, which is why they always take them to Hungry Howie's®. They like classic toppings combined with unusual toppings to create the ultimate pizza to wow their friends. Anything from BBQ sauce to pepperoni and beyond.
Capricorn pizza order: One large pizza, half Chicken Bacon Ranch, half veggie.
Aquarius (January 20 – February 18)
Aquarians, enjoy the simple things in life. They know life truly revolves around friends and pizza. They like to experiment, which is why their pizzas are always ordered with a side of dipping sauces to blend new flavors. Also, they like to experiment. When it comes to crusts, they have tried everything from thin and crispy to thick and chewy, and they love mixing their favorite topping with a Flavored Crust ® pizza.
Aquarius pizza order: One extra-large classic cheese pizza with dipping sauces.
Pisces (February 19 – March 20)
Well, Pisces like whatever comes from the sea. They fancy the exotic toppings that match their artistic spirit. They like bold, exciting flavors that they can combine with classic ingredients. At times, they might be torn between the sea and the land, which is why they would order two pizzas so they can satisfy their cravings.
Pisces pizza order: One BBQ chicken pizza and one cheese pizza with anchovies.
We don't know what 2018 will bring you, but we do know there will be plenty of pizza waiting for you this year. Order your favorite Hungry Howie's® pizza according to your sign, so you won't have any disappointments, ever.
Sources: https://www.theodysseyonline.com/if-horoscope-slice-pizza?utm_expid=.oW2L-b3SQF-m5a-dPEU77g.0&utm_referrer=https%3A%2F%2Fwww.google.com%2F
http://www.cosmopolitan.com/uk/body/news/a41330/pizza-order-based-zodiac-sign/
https://www.dailyhoroscope.com/horoscope-headlines/astrology-pizza-for-every-horoscope-sign