Image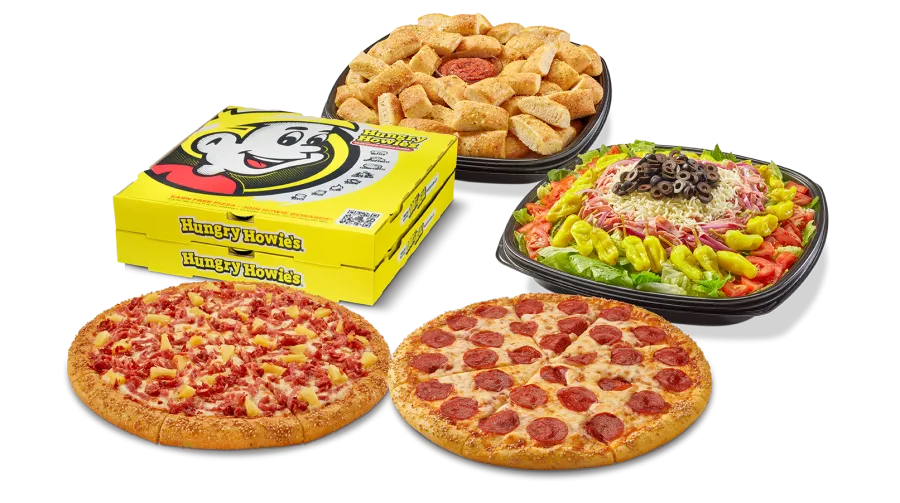 Having a pizza fundraiser is an excellent way to raise money for causes that are important to you. It's fun, tasty, and, most importantly, can help make a significant impact on the world around you. You can raise money for anything when you throw a pizza fundraiser.
It's a great way to get people together for a common cause while enjoying one of the most loved and appreciated foods. No one can say no to a fantastic slice of pie, and everyone loves making the world a better place.
Countless causes can benefit from pizza fundraisers. Most people choose a cause that means something personal to them. Whether raising money for a children's hospital, cancer or healthcare foundation, animal rescue, natural disaster relief, or issues impacting a local community, you can help deliciously raise charitable funds.
Keep reading to learn more about why pizza fundraisers can be so effective, how to plan a successful event, and how to choose the right venue to help accomplish your goals.
Pizza Fundraisers: A Delicious Way to Raise Money for a Cause
There are plenty of different fundraisers out there, but not all of them are as delicious as going the pizza route. Examples of other fundraisers include:
Raffle prizes and silent auctions.
Product sales with portions of proceeds donated.
Soliciting cash donations.
Asking for grants from various companies.
While all of these fundraising ideas can certainly help meet your goal, some take much more time to plan and execute, may require extensive paperwork, can get expensive on the end of those planning the event, and also take up a significant amount of time and money from those contributing to the cause. Galas and marathons aren't for everyone. Additionally, while product sales can be an excellent option for some, the manufacturing, shipping, and lead time becomes prohibitive for others.
This is where the power of pizza fundraisers come in. They can be straightforward and inexpensive to execute, take minimal time out of the day for donors, and are a fantastic way to raise cash fast–which is essential if you're raising money for a cause like natural disaster relief.
What's even better is that everyone loves pizza. And if they don't love pizza, their best friend, partner, co-worker, or family member does. Pizza is one of America's favorite foods and is a deep part of our culture, making it a win-win in the fundraising department.
And since those who donate get something excellent in return, it's much easier to solicit and entice everyone. Whether you're hosting an in-person event or using another method of pizza fundraising, it results in money going toward a great cause while filling people's bellies and bringing smiles to their faces. Not only can they eat well, but they feel good about it, too.
The Power of Pizza: Why Pizza Fundraisers Are Popular
Pizza fundraisers are popular for a variety of reasons. First, they appeal to kids and adults alike. They don't exclude any target demographic, and people get enthusiastic about classic food paired with a great cause.
They're also popular because you can set up a pizza fundraiser in several ways. You can throw a party where everyone chips in a donation. You can do this at the office, at a school event, and even at your home or the cul-de-sac of your street.
Or, you can set up an event full of fun games with prizes. Add a pizza gift card to the prize bin, and the winner will be sure to smile. You can also contact local pizzerias to see if they can donate coupons or free pies. Programs like the Dough Raiser Fundraiser make getting redeemable gift cards fast–in any number you'd like.
Another route is to partner with a local pizza vendor and host a "pizza night party" at the restaurant. Businesses tend to like this idea since it draws people in, which often leads to repeat business in the future, and lots of parents love to take a break from cooking for the night and instead the kids somewhere they love.
In-store restaurant events often feature lower-priced menu options to incentivize attendance, with portions of proceeds donated to your designated cause or foundation. Sometimes, restaurants will offer special event packages for fundraising. They may sell "do-it-yourself" pizza kits for people to take home or host pizza-making nights where patrons can visit and create personalized pies.
Pizza fundraisers are popular because they're relatively easy to coordinate, there are many ways to host them in a way that best works for your cause and availability, and they're centered around two things people love: good food with great intentions.
Planning a Successful Pizza Fundraiser: Key Considerations
If you want to hold a successful pizza fundraiser, there are a few considerations to keep in mind. First, decide what type of fundraiser you want to have. An on-site event at your workplace or local park, an in-store event at a restaurant, or gift cards as part of a prize bundle.
Some of these ideas are easier than others to execute, depending on cost, city permits, restaurant agreements, and more. Figure out what pizza vendor you think is best for your cause. If it's for a local community effort, using a local mom-and-pop store fits the role perfectly. If you want to appeal to a larger audience, grabbing gift cards from more widespread chains may be a better way to go.
Next, decide which vendors to reach out to and any other entities that may be involved, like the city or event site. Plan as far in advance as possible to secure the date, time, and location you want. Also, consider lead times for things like contracts, permits, and more to go through before you can officially host your event. This can happen much more quickly if you're doing gift card donations.
If you're hosting a quick event at a school or office, search for "pizza delivery near me" to see where you can get pies right to your doorstep. If you're placing a large order (usually more than five pies), giving the restaurant as much notice as possible so your food is fresh and ready on time is best.
Choosing the Right Pizza Vendor for Your Fundraiser
To pick the right vendor for your fundraiser, consider what you're asking the restaurant for. If it's their space to hold an in-store event, speak with them to ensure a day and time and that they can hold the number of expected guests.
For gift cards, you want to take the route that offers the most options for those making donations. Choosing a vendor with multiple convenient locations is usually best.
If you're having an on-site event, like at a park or block party, ensure your location is within delivery range. And lastly, talk to the vendor about your specific cause. Make sure it's something that they can get behind and support, too, since it's something special to you. Having a great vendor as a partner makes all the difference.