Image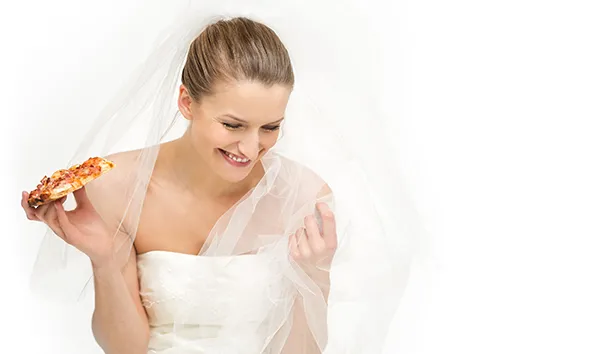 The average wedding costs over $35,000 and recent surveys indicate that now more than ever, brides and grooms are covering the majority of these costs. The most expensive place to get married is Manhattan – where costs reach over $75,000 – but even in Arkansas, where the costs are the least in the nation, a wedding can still run up to nearly $20,000.
There are many elements of a wedding that need to be planned out, but the food is by far one of the most important of them all. Whether you're looking to have a beautiful backyard wedding or something more luxurious, Hungry Howie's catering provides plenty of delicious choices.
Serve a Full Three-Course Meal
If you're considering pizza catering for all your food needs, you can provide guests with a three-course meal that's finished off with a traditional wedding cake or another dessert.
First Course
Start off with party-sized Howie Bread® or 3-Cheeser Howie Bread® served with a side of zesty tomato sauce. If you want something lighter, provide a selection of salads. Chef, Antipasto, and Greek salads are lighter options that work perfectly as an appetizer. Compared to the cost of other catering options, why not provide both?
Second Course
Now, if you've invited guests that are pizza lovers – and who isn't? – make sure there is a large selection of pies to choose from. A Deep Dish Party Pizza from Hungry Howie's comes with 32 slices, whereas 3 extra-large round pizzas are enough to feed every 18 guests if each person has 2 slices of pizza.
Offer a variety of toppings, including veggie-only for any vegetarians in your group, and plain cheese for those picky-pizza lovers. You'll also have a chance to choose the Flavored Crust® for each pizza. If any of your guests are gluten intolerant, Hungry Howie's offers a gluten-free* crust.
Take into consideration how much each person is going to eat to calculate how much pizza will be needed. If each person eats 2 slices and you plan to have 70 guests, you'll need at least 140 slices – which means you would need about 12 extra-large round pizzas. Hungry Howie's can help you determine how many pizzas to order so that no one leaves – ahem – hungry. And don't forget about yourself; the bride and groom need to eat too!
Third Course
As always, leave some room for dessert. If you do not want to go with the traditional wedding cake, a dessert table is a great option to offer your guests something sweet. Pick your favorite desserts and set up a table where guests can pick their selection.
Offer a variety of sweets. For example, a collection of brownies, starting from a delicious Caramel Howie Brownie, a rich and moist Chocolate Howie Brownie for chocolate lovers, and an Original Howie Brownie for those who like to stay traditional.
Pizza as a Post-Dancing Snack
For those who may have already scoped out a venue and menu options, Hungry Howie's can still help you. After dancing for several hours, guests are going to work up an appetite. Late-night wedding snacks, like hot pretzels, mini cheeseburgers, and yes, pizza, have become more and more popular. A Hungry Howie's pizza bar is a piping hot way to give guests some easy eats to keep the party going.
No matter what type of wedding you're having, Hungry Howie's catering is ready to help you in the planning process.
Sources: http://www.washingtontimes.com/news/2017/feb/4/cost-of-the-average-american-wedding-reaches-recor/
* If you have celiac disease, our Gluten-Free Crust is not for you. If you are gluten-sensitive, please exercise your best judgment before ordering. Our kitchens are open environments, leaving our Gluten-Free Crust to possible exposure to other ingredients that contain gluten. We cannot guarantee that your pizza made with our Gluten-Free Crust will be free of all gluten. Please visit http://www.hungryhowies.com/glutenfree for additional information.