Image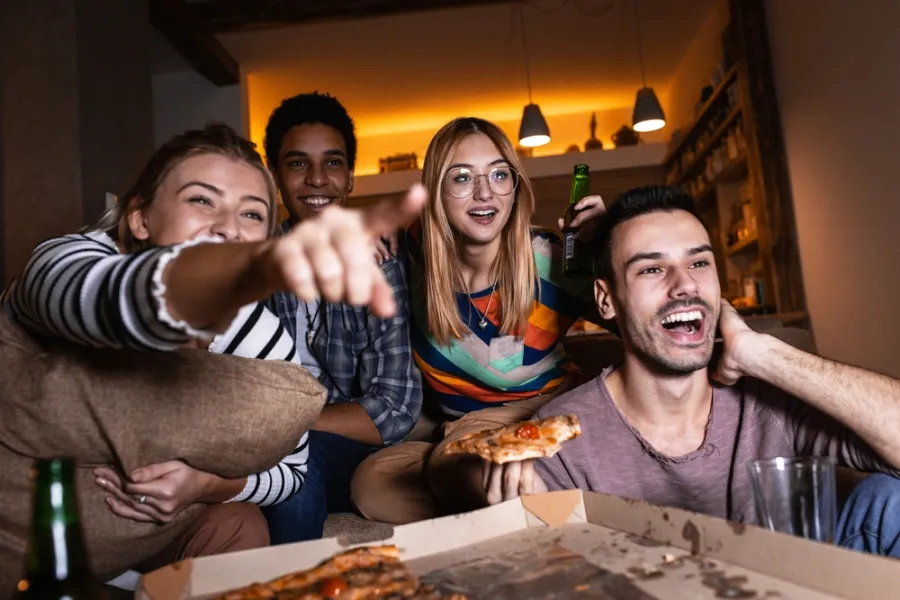 With approximately 94% of Americans stating they eat pizza regularly, it's no surprise that pizza has countless appearances in movies and pop culture. In fact, many iconic scenes on the big screen include the favorite dish. When it comes to a good pie, pizza TV show clips are abundantly featured, too.
From t-shirts to hats, socks to stickers, and even blankets and keychains, you can find almost any item of the pizza variety. Pizza in movies is no different, as actors often sport such things. Additionally, some of the most important scenes in digital masterpieces center around the food.
America has a love affair with pizza–and directors and producers everywhere want to connect with audiences through the familiar, staple takeout food.
Exploring the Cinematic Love Affair with Pizza
The famed documentary Pizza: A Love Story (2019) says it all. Americans adore their cheesy pies so much that an entire film describes the culture surrounding the food, the rise of the dish's popularity in the U.S., and how everyone came to appreciate a great pie. There's no doubt about it, with more than 78,000 pizza restaurants across the country, the numbers say it all.
Any movie, sitcom, or documentary aims to relate to the masses and create an emotional connection that draws viewers in. The best way to do this is by portraying characters as relatable–even if they're wildly comical or serious and stern. What better way to do this than to incorporate pizza?
And so, the cinematic love affair evolved.
Iconic Pizza Moments in Film
When you think about your favorite movies, many likely have pizza scenes. But some are iconic, taking centerstage as scenes that people talk about for ages.
Here are our three favorite iconic scenes of pizza in movies:
1) Fast Times at Ridgemont High
Who can forget the moment when Spicoli, played by Sean Penn, orders pizza delivery straight to his high school classroom? A classic move for the goofy character, the stunt has inspired students to try it themselves. The reaction? Tons of laughs from the audience and real-life pranksters, with stern head-shaking from school administrators. But as a harmless prank, everyone recognizes the move when they see it.
2) Home Alone
When youngster Kevin McCallister is left behind as his family leaves on a European vacation, he must fend for himself. Another jokester, little Kevin, takes the opportunity to fetch his favorite food as he watches a movie.
But pizza is the main focus of the clip, as McCallister pulls a funny move on the delivery man via soundbites from other movies. Crowds laugh as the pizza man scurries away in fear, and Kevin gets to chow down.
If you feel ready to get your Kevin McCallister on, look for "pizza delivery near me" and get your favorite order straight to the door—maybe without the prank.
3) Toy Story
The original Toy Story (1995) has an interesting take on pizza. Andy, the owner of the toys, visits "Pizza Planet," and his beloved toy friends Buzz Lightyear and Woody have no interest in trying a slice. But they don't want to be without Andy. Instead, they want to get to Pizza Planet to see what the excitement is about and see their very best friend.
In their brave attempt, they take a joyride in the back of the Pizza Planet delivery truck, as they're sure they'll arrive at the desired location. Eventually, Andy and his toys do reunite, and all is well.
How Pizza Shapes Storylines in Movies and TV
Pizza TV shows and pizza in movies can make or break a scene. Often, it's a late-night gathering of friends as they recount their evening. Sometimes is a heartwarming family dinner or a celebratory meal after a big win. In all instances, pizza brings people together, fostering a positive feeling of love, intimacy, and joy.
But sometimes, pizza shapes the entire plot and storyline of a movie or TV show. Check out The Cooking Channel's show Pizza Masters, where two best friends set out on a road trip across the country to find the best pizza.
Pizza Boys (2021), aired on BBC. The plot line featured Jez and Ieuan as they set out to become the ultimate pizza-makers. The two buy an old Italian van named Smokey Pete and get an oven going inside. Their ultimate goal? To enter the Pizza World Championships and claim the prized name.
How Pizza References Connect with Audiences
When it comes to reality and cooking pizza TV shows, audiences become deeply invested in the competition and goals. They connect with the cast as they unwaveringly root for them. Audiences see the pizza makers and searchers as friends, as everyday people who could be them.
In other instances, where characters order and gather around the sweet and savory deliciousness, audiences get it. They, too, would often score a pie in the situation, bringing an element of reality and connection over a commonly-loved dish. There's an ongoing debate over crust lovers and crust-haters, but if you can't get enough of the crispy dough, go bold and try a Flavored Pizza Crust.
If you're in the mood to place a pizza order now, we can't blame you. Order from Hungry Howie's today for takeout or delivery.