Image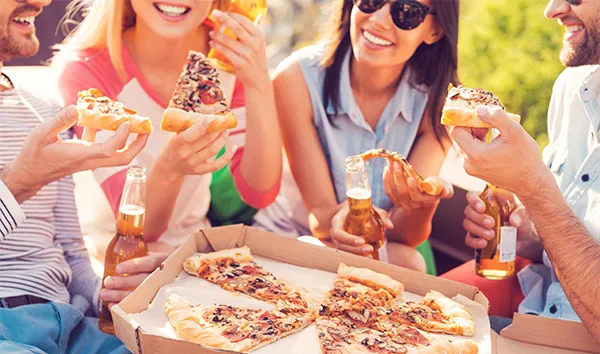 Pizza and beer go hand and hand. It's the ultimate combination for warm weather parties, take-out weekend nights, and definitely while watching the Sunday games. Whether you're sharing a pie with friends or family, finding the best pizza and beer pairings can elevate your meal and add to the good time. While it's always a great idea to grab your favorite cold bottle or can, explore new tastes by checking out our amazing list of pizza and beer pairings.
We're here to review all your favorite pies and provide ideas for new pairings that may brighten your day. Keep reading to find the best pizza and beer pairings for those who love classic cheese pies, meat lovers, veggie lovers, those who love spicier options, and more.
Here are eight beer and pizza pairings you can give a try. And remember to add your favorite Flavored Crust to your pie when you order from Hungry Howie's to increase the flavor.
1) Cheese Pizza with Belgian Wheat Beer
Belgian wheat beers go well with plain cheese pies. They're on the lighter side of the taste spectrum but often feature a slightly fruity undertone that perfectly complements a cheesy, salty pie. You'll likely find notes of orange peel or other citrus fruits and spices like coriander.
2) Meaty Pizza with Pale Ales
Pale ale beers have a heavier taste than Belgian wheat beers, which means they're an excellent pairing with pies topped with meats like pepperoni, sausage, salami, and more. It makes for a heartier meal that's filling and rich. With a pale ale, you can expect more of a hoppy taste that's a bit more malty and bitter than lighter beers. Again, they have a full-body profile with some fruity notes–yet a little more bitter.
3) Veggie Pies with Stout Beers
Mushrooms, red peppers, olives, onions, and more all make excellent pizza toppings. If you're a veggie lover when it comes to pizza, give a stout beer a try. Sweet and earthy come together to create a well-balanced, delicious flavor profile. While the veggies give that earthy, fresh crisp, a stout beer provides a complementary sweetness for an excellent balance. You'll find a light hoppy flavor, with notes of caramel, chocolate, and even coffee to balance the bitter hops.
4) Hawaiian Pies and the Howie Maui Pizza with Fruit Beer
Pineapple on pizza? We know–highly debated. But still, about 40% of Americans say they're cool with the combo. You want a fruity beer to match if you're having a sweet pie (sometimes balanced with a saltier addition like ham). You can find fruit beers with virtually endless options. Strawberries, raspberries, plums, and cherries are among the most popular varieties. The fruit tones are an additive to malt; you may find them in wheat beers, Mexican beers, IPAs, and more. Sometimes they have a hint of honey in them, too.
5) Seafood Pies with Crisp Beers
Sardines are among the most popular seafood toppings in the United States. However, it's common to find foods like shrimp or squid at unique restaurants or overseas. If you're traveling, impress the locals with your proper pizza and beer pairing knowledge. If you have fish on your pie, try citrus pale ales or weiss beers that usually feature a tart lemon flavor. The acidic flavor profile of these beers complements seafood perfectly.
6) Bacon Cheese Burger Pies with Wheat Beers
Hungry Howie's makes a mean bacon cheeseburger pie. If this is your order, try a light wheat beer just as you would with a plain pizza. The fresh, crisp, citrus flavor balances the heavier, richer taste of the loaded pie for something savory but not overwhelming.
7) BBQ Chicken Pies with Lager Beers
You'll find a delicious BBQ Chicken pie at Hungry Howie's, and we recommend pairing the pizza with a lager beer. Lagers tend to have toasty notes and a mild hop flavor. The beers complement the spicier, heavier taste of the savory BBQ sauce.
8) Buffalo Chicken Pies with IPAs
Another Hungry Howie's favorite, our spiciest Buffalo Chicken Pizza, goes well with a good old American IPA. Not all IPAs are created equal. Some are bitter and extra hoppy, while the American version leans in the fruiter direction. You might taste a bit of pine and mild hops.
Order for Take-Out or Delivery Today
Grab your favorite pie tonight or for your next gathering occasion, and stock up on the best pizza and beer pairing. If you're ordering for a large group, ordering a variety of pies and beers to match will impress your guests.
You can order for take-out and swing by on your way home or order for delivery, and we'll bring your order straight to your door. Remember to add soft drinks, desserts, and fan favorites like Howie Wings, Howie Bread, or fresh salads into the mix too.