Image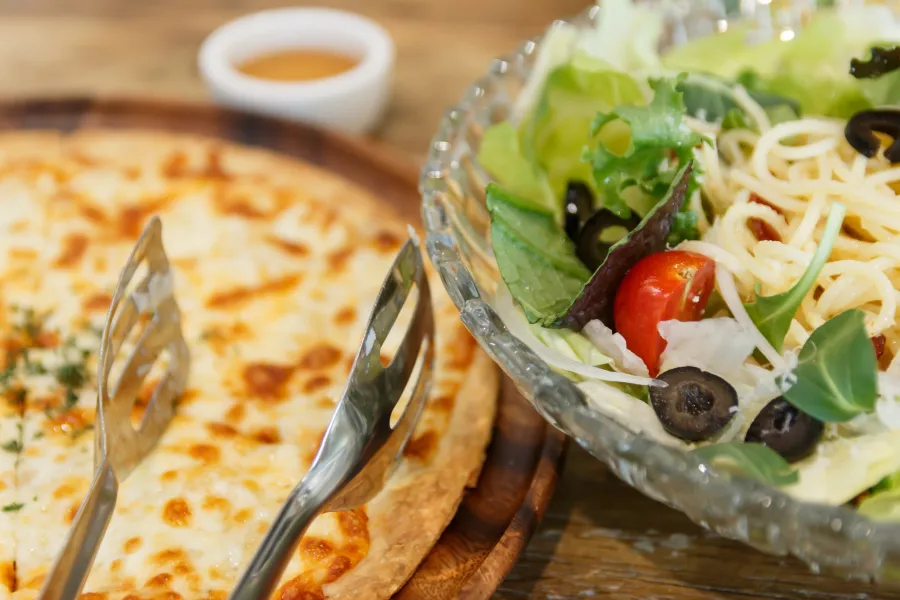 Your search for the "best lunch deals near me" ends here. When you're looking for an affordable and tasty lunch in a hurry, Hungry Howie's has you covered.
Our menu features delicious, filling lunch options for everyone, from warm and toasty oven-baked subs to pizzas with well-seasoned crusts to refreshing salads. You're sure to find something that will satisfy your cravings. Hungry Howie's has so many flavorful items to choose from:
Pizzas
Subs
Howie Bread
Howie Wings (regular and boneless wings)
Salads
Pasta
No matter what you order from Hungry Howie's for lunch, it will be big on flavor. We're all about high-quality ingredients and never skimping on seasonings. Our perfectly seasoned, cheesy pizzas feature a Flavored Crust® with eight options: Butter, Asiago Cheese, Cajun, Butter Cheese, Sesame, Garlic Herb, Ranch, and Onion.
We think pizza is for everyone, which is why you can always find great deals on lunch at Hungry Howie's. That's why we're known for providing flavorful foods at a good value.
Plus, many of our specials are for delivery, so it's the best way to get a tasty, fast, and affordable lunch no matter where you are.
When you're looking for "lunch deals near me," Hungry Howie's has you covered with the tastiest and cheesiest lunches that are cooked to perfection and delivered fast.
Hungry Howie's Lunch Deals Near Me
Lunch deals can vary by location. Check out our website to see which deals Hungry Howie's nearby restaurants have to offer you. You're sure to find something that works for your tastebuds and budget. We've compiled just a few of the deals you may find at your local Hungry Howie's may offer.
Lunch Specials
We created these specials for hungry people who need lunch. They feature menu items such as salads, subs, and two-topping pizzas and come with a 20-ounce soft drink (Pepsi products). They're the perfect deal for one.
Try a Mouthwatering Sub or Salad with the Lunch Special
You have probably tried our delicious pizzas, but you may not know about the other great options available with this deal. We know you'll love our subs and salads just as much as our pizza.
Every Hungry Howie's sub is baked in the oven until they've reached maximum toasty-ness and cheesiness. They're calzone-style subs made with pizza dough instead of bread. If you enjoy the zesty sauce, flavorful crust, and fresh toppings on our pizzas, you'll adore these tasty sandwiches. Each oven-baked sub comes with a dipping sauce that will take your lunch to the next level. Check out all the delicious subs on our menu:
Italian Sub
Steak, Cheese, & Mushroom Sub
Pizza Deluxe Sub
Turkey Club Sub
Chicken Bacon Ranch Sub
Ham & Cheese Sub
Veggie Sub
The lunch special applies to the 8" regular size sub, but it's also available as a 10" large size.
Salad may not be the first thing that comes to mind when you think of a pizza chain, but Hungry Howie's takes this common pizza pairing seriously. We love a salad that goes well with pizza, but our salads are tasty enough to stand on their own. We have everything from light salads that won't weigh you down to more filling ones that will keep you fueled all afternoon. From old classics to salads with innovative, bold flavors, you're sure to find a salad you enjoy. Look at all the tasty salads we offer at Hungry Howie's:
Antipasto Salad
Chef Salad
Garden Salad
Spicy Chicken Salad
Chicken Asiago Salad
Chicken Caesar Salad
Greek Salad
Each salad is customizable and comes with your choice of dressing.
Check out the lunch deals near you today!
Meal Deal
Hungry Howie's Meal Deal promotion is an affordable way to get your hands on great items like pizzas, Howie Wings, Howie Bread, and soda. We offer Meal Deals that can serve just one person or a crowd. Meal Deals vary by location, but you might find one that includes a large pizza, Howie Wings, Howie Bread, and a 2-liter of soda. This is an excellent choice if you need to order lunch for yourself and a few coworkers at the office or feed your family while working from home. You can also find Meal Deals that include a single pizza that can serve one to three people, depending on the size of the pizza and your appetite.
Large Specialty Pizza
Sometimes, you want something different from your go-to pizza toppings. That's the perfect time to order a specialty pizza. Hungry Howie's pizza experts craft these extra fancy pizzas to be extremely tasty. Thanks to this pizza deal, they're also affordable. Split one of our specialty pies with someone special or order it for yourself so that you'll have leftovers. You'll love options like the Howie Maui (pineapple on pizza forever!), Bacon Cheddar Burger, and Meat Eaters.
Order a Hungry Howie's Lunch Deal Near Me Today!
No matter what you choose, when you're searching for the "best lunch deals near me" at Hungry Howie's, you're sure to find something tasty, affordable, and convenient for lunch.
Best of all, with the money you save, you can afford to buy a Howie Cookie, too. Check your local Hungry Howie's store for specific menu items and specials.