Image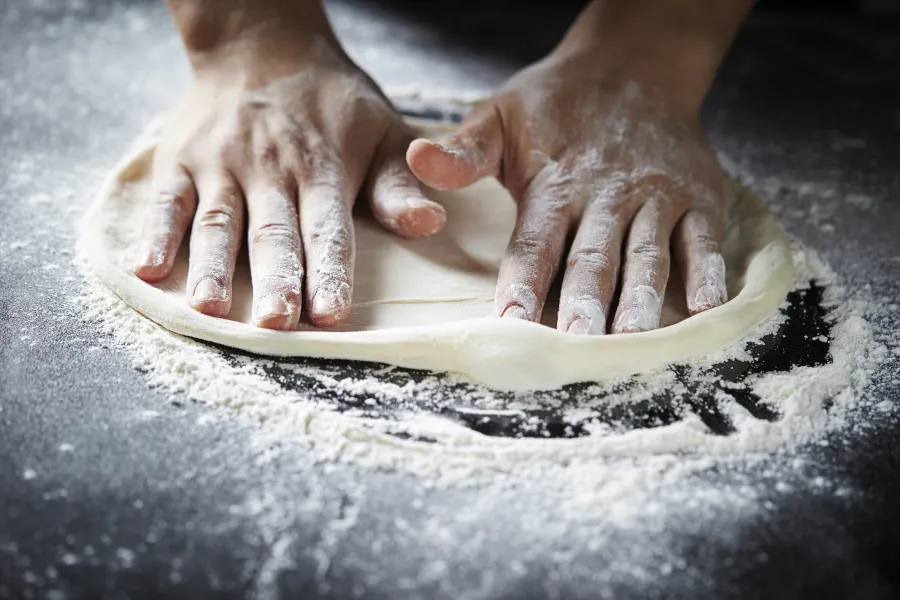 It's fun to make homemade pizza from scratch, but if you're inexperienced with working with dough, you may not know how to make pizza crust. Working with ingredients like yeast can be intimidating for many cooks. There's no reason to be scared of making pizza crust at home. With a few simple ingredients and some elbow grease and patience, you can be making pizza crusts that are chewy and perfectly seasoned.
The pizza experts at Hungry Howie's have you covered with our beginner's guide to how to make pizza crust. Let us walk you through every step of the process to make a crust that will rival your favorite restaurants.
What Ingredients Do I Need to Make Pizza Crust?
Pizza dough recipes can call for a long list of specialty ingredients or just a few everyday pantry staples. Most recipes call for the following ingredients:
Flour
Instant or Active Dry Yeast
Oil
Salt
Granulated sugar
Warm water
Some recipes may call for bread flour, which most people do not have on hand. Bread flour results in a crispier crust, and some pizza aficionados swear by this ingredient.
However, many home cooks do not have this ingredient on hand whenever a pizza craving strikes. Thankfully, bread flour is not necessary to make a pizza crust. You can easily create a delicious pizza dough from all-purpose flour.
How Do You Make Pizza Crust?
Most recipes begin with activating the yeast. Yeast is activated when you mix it with warm water and sugar and leave it for 10 to 15 minutes. After this period, the yeast mixture should foam and bubble. If your yeast does not do this, it may not be alive, and your pizza dough will not rise. Some recipes may use instant yeast, which does not have to be activated before incorporating it with other ingredients. You may still want to mix it with warm water to check that it's alive before you begin baking with it.
Once you've activated your yeast, you can mix it with the other ingredients to form a dough. You'll knead the dough by hand or via a stand mixer with a dough hook for several minutes. You'll know you have kneaded the dough for long enough when you have a slightly soft dough that slowly bounces back when you poke it.
After kneading the dough, the next step is to let it rise in a greased mixing bowl. Roll the dough ball around the bowl so that it is coated with oil. This prevents sticking. The dough must rise in the bowl for anywhere from 30 to 90 minutes. The best environment for the dough is a warm spot in your kitchen.
Once the dough has risen, you'll punch it down to release air bubbles. Turn out the dough onto a lightly floured surface. Use your hands to stretch out the dough to your desired shape. Now it's ready for your favorite combination of pizza sauce, cheese, toppings, and seasonings!
How Do You Stretch Out Pizza Dough?
We've all seen the pizza chefs at our local pizzeria tossing dough into the air with ease. They make shaping pizza dough look so easy, but don't be deceived. Stretching out your dough can be the most challenging part of making a pizza.
A lot can go wrong during this part of the process. You may find the dough resists being stretched and shrinks back to its original shape. If you overwork it, it can develop holes or become tough.
Following our tips can make it easier to stretch out your pizza dough.
Be sure to follow the recipe's directions. Pizza dough recipes have specific instructions for how long to knead the dough and let it rise. It's essential to follow these directions carefully.
Let it rest for longer. If your dough resists stretching, don't keep working with it. Let it sit for 10 to 15 minutes before working with it again. This gives the gluten in the dough time to relax, which should lead to a stretchy dough.
Bring your dough to room temperature. If you have some dough in the fridge, be sure to let it come to room temperature before you work with it. If you had to refrigerate your dough
Oil your work surface instead of using all-purpose flour. If you're new to making pizza dough, it might be better to oil your work surface instead of flouring it. If the dough takes on too much flour, it will become too tough, which is why oil is a more beginner-friendly choice.
Stretch it out on your pizza stone, pan, or baking sheet. Loading up your dough with your favorite toppings before you've transferred it to a pizza pan can result in disaster. The pizza can lose its shape, causing the toppings may fall off. You may wish to stretch the dough directly on the pan you'll bake it in. Regardless, don't start adding toppings until you've transferred the dough to the pizza stone.
If you follow these tips, you'll be on your way to a delicious homemade pizza.
Can I Flavor My Pizza Dough?
Pizza dough can be bland on its own. The pizza sauce, cheese, and toppings will provide some flavor, but you may want to spice up your dough even more with a flavored crust.
There are several ways to flavor the crust. You can add seasonings directly to the dough or brush the crust with seasoned oil or butter. Popular seasonings include dried basil, oregano, garlic powder, and parmesan. Next time you want to make a flavored crust pizza, try brushing the crust with a mixture of melted butter, oregano, and garlic powder for the perfect garlic and herb crust.
Making your own pizza dough is key for anyone who wants to take their homemade pizza recipe to the next level.