Image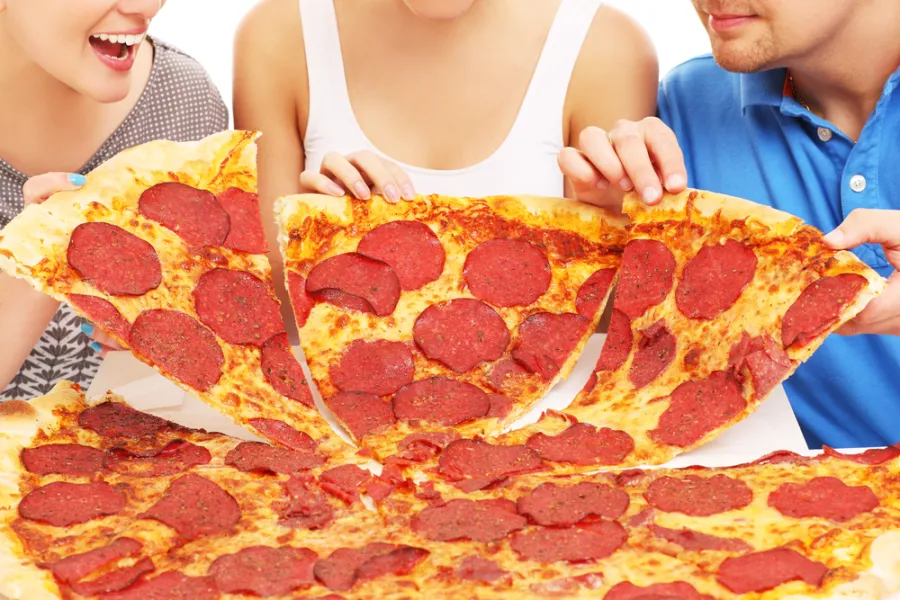 If you're searching for "how many slices in a 16-inch pizza," you are probably trying to figure out how much pizza to order for a group. Ordering up a bunch of x-large pizzas for a crowd can be intimidating because you want to order the right amount of pizza with toppings that will make everyone happy.
As you're planning your pizza order, it's helpful to calculate how many pizza slices you need per person and how many people each pie will serve. You don't want to order too much and be stuck eating pizza for a week, and you don't want to underestimate the number of pizzas you need and risk anyone going hungry. You also want to know the most crowd-pleasing toppings.
The pizza math experts at Hungry Howie's have you covered with all the pizza knowledge, like how many slices in a 16-inch pizza and the most popular pizza toppings. Let us take the guesswork out of your next pizza order.
How Many Slices in a 16-Inch Pizza?
It depends. Most chains will slice a pizza of this size into eight to 12 slices if they cut it into the classic triangle shape. If they use the square pattern for cutting, you may see even more variation in the number of slices of pizza from different restaurants. Most places will be happy to accommodate any requests for how to slice the pizza. For example, if you're serving small children, you might ask for half slices or square-cut slices because these smaller pieces are more manageable for children to eat.
How Many People Does a 16-Inch Pizza Serve?
Pies of this size can comfortably serve between five and six and are usually classified as x-large. Of course, this can vary based on the size of the slices. It can also depend on how hungry the crowd is and whether you're serving your pizza with other items, such as wings, bread, and salad. The thickness of the crust may also impact how many slices each person can eat.
Technically, a slice of pizza is typically considered a single serving, so if the pie is cut into 12 pieces, it serves 12 people. However, if you're feeding 12 hungry people, a single x-large pizza is probably not going to be enough to fill everyone up.
How do you translate how many servings you can get out of every square inch of pizza? Here's a quick guide for how to calculate the serving size based on the pizza size or inches in diameter:
Small pizza (10 inches in diameter): serves one to two people
Medium pizza (12 inches in diameter): serves three to four people
Large pizza (14 inches in diameter): serves three to five people
Extra-large pizza (16 inches in diameter): serves five to six people
If you're serving children or plan to serve other items alongside the pizza, you can assume that the pizza will go farther. However, if you're serving just pizza to hungry adults, go with the more conservative estimates for how many people a pie can feed.
How Many 16-inch Pizzas Should I Order?
It's a safe bet that a single 16-inch pizza will serve five adults. Depending on the size of each slice, that will mean anywhere from one to three pieces of pizza per person.
If you're serving a crowd of 20 people, it's a good idea to order four of these x-large pizzas. At many pizza chains, you'll get eight large triangular pieces per 16-inch pie, which results in a generously sized piece of pizza. Four pies will give you 32 slices total. That will give each guest between one to two large portions of the pizza.
Choosing Toppings that Please Everyone
When you're ordering pizza for a crowd, you want to get toppings that will please everyone. That's no easy task. We've gathered a list of the most popular types of pizza so that you can feel more confident when you place your next order.
Pepperoni. It's no surprise that pepperoni pizza tops the list of popular pies. This iconic topping is a must for any pizza party.
Cheese. Plain old cheese pizza may seem boring to many people. However, if you order a cheese pizza for a party, you'll be amazed how quickly it will disappear. This pizza is popular with children, but people of all ages can't resist the familiar taste of a cheese pizza.
Sausage. Smoky, salty sausage graces many pies from coast to coast. People can't get enough of this popular pizza topping.
Mushroom. Mushrooms can be a polarizing topping. Some people think it's the best pizza topping around, while others wonder why anyone would ever eat fungi. Despite the haters, it's a popular topping, so consider serving it at your next gathering.
Veggie. Make veggie lovers and vegetarians happy with a veggie pizza. Mushrooms, red onions, green peppers, tomatoes, and black olives are popular ingredients on this specialty pizza.
Supreme. This popular combination of classic pizza toppings marries fresh veggies and meat. Pizza joints all have their own unique take on this pie. It may combine meats like pepperoni, sausage, or ham with mushrooms, green pepper, onions, and black olives. It's simply delicious!
Buffalo Chicken. It's not just a popular trend for sandwiches at fast-food chains. This flavor combination has made its way to pizza, and pizza lovers everywhere could not be happier.
Hawaiian. This specialty pizza is hot right now. With so many folks ordering pizza during the pandemic, everyone is looking to try something new. Pineapple on pizza has its detractors, but a Hawaiian pizza will at least give your guests lots to debate.
BBQ Chicken. Sweet and salty BBQ chicken pizza is sure to be a hit with everyone. It combines BBQ sauce with grilled chicken, bacon, and onion for a complex and tasty pie.
Consider ordering a few gluten-free crust pizzas to accommodate any grain-free folks in your crew. We can't guarantee that you'll please that one person who loves anchovies but ordering a few of these pies should ensure that everyone has something enjoyable to eat.
Order 16-Inch Pizzas from Hungry Howie's
Hungry Howie's pizza is the perfect food to serve at a gathering of any size. We offer crowd-pleasing pizzas that are sure to be a big hit with your crew. Every 16-inch pizza is cut into eight slices, but we'll be happy to cut your pizza however you like. If you have special requests about the cut, please place your order by phone. That way, you can speak to one of our friendly team members and order with confidence. We even offer a catering service for large gatherings.