Image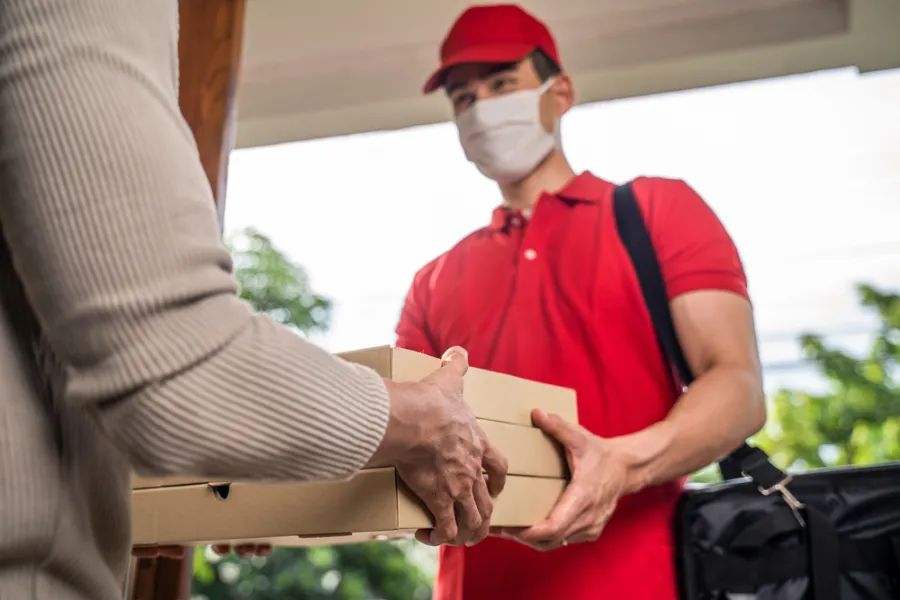 How far do pizza places deliver? This is a question we hear quite often here at Hungry Howie's®. When you're craving your favorite pie with our famous Flavored Crust®, we know that you don't want to wait too long for your order to arrive at your door. That's why we have more than 550 locations throughout 22 states in America–so that we can delivery a fresh pizza to you as quickly as possible. The chances are that there's a Hungry Howie's® near you to deliver your order today.
Keep reading to get answers to key questions about Hungry Howie's® pizza delivery, including information about our many locations, our hours of operation, and the answer to the popular question "how far do pizza places deliver?" Additionally, learn some fun facts about the Hungry Howie's® franchise to share with the family over your next favorite meal.
Hungry Howie's® Locations
The first step to placing your pizza order is to find a Hungry Howie's® near you today. Simply visit our webpage and enter your city and state or zip code to view a map with all of the closest restaurants. Or, for a complete list of every Hungry Howie's® location in the country, click "List."
The "List" page lets you know what time your closest location is open until, what the current wait time on an order is for both delivery and carryout, and so much more. You can also check out the deals that are specific to your location and view the menu. Item availability may vary between stores so it's always a good idea to check it out beforehand.
How Far Do Pizza Places Deliver: Hungry Howie's®
The great thing about Hungry Howie's® is that since we're a franchise, each location can operate independently to meet the needs of their local community. This means that not only do we tailor our hours of operation per store based on what the city needs, but we customize our delivery radius as well.
What this means is that there are no set guidelines for Hungry Howie's® delivery radius. Each store can set their own parameters regarding distance and time that their drivers can go to deliver your order. To find out how far your local Hungry Howie's® delivers, and whether you're in that radius, give your local store a call today.
Our first priority at Hungry Howie's® is always keeping our employees safe while maintaining as short a wait time for orders as possible. Things we take into consideration when determining our delivery radius include distance as well as drive-time.
The good news is that even if we don't deliver to your location, you can still order for carryout and pick up your order on your way home. You can either place an order online and select the take out option or give us a call and we'll have your order ready when you arrive.
Hungry Howie's® Hours of Operation
Just like our tailored delivery radius, each Hungry Howie's® location is free to set their own hours of operation based on traffic in the store. Some locations open in the late morning for the lunch crowd, while others open just before the dinner rush.
Additionally, some locations stay open fairly late with a close time of 11 pm or later. Others are closed by 8 pm. To get the most accurate hours of operation, call your local Hungry Howie's® location today.
The History of Hungry Howie's®
Hungry Howie's® originated in the state of Michigan more than 48 years ago in 1973. It is the eleventh largest pizza chain in the entire country, and it continues to grow. We're the home of the original Flavored Crust® with eight different varieties available. Our menu features a variety of items such as pizza, oven-baked subs and pastas, fresh salads, chicken wings, cheesy bread, soft drinks, desserts, and more.
Order for Carryout or Delivery Today
So, how far do pizza places deliver? The precise answer will vary by location. For information that pertains to your closest Hungry Howie's®, call your nearest store today and place an order for carryout or delivery.
When you place an order for delivery online you can use our handy Howie Track® which will show you precisely where your order is each step of the way, from the oven to your door. Or, give us a ring and place your order by phone. We're always happy to speak with our customers. Ask us questions about our hours of operation, our delivery radius, and our menu options to get all the info you need before placing an order.
At Hungry Howie's® we value fast and professional delivery of hot and fresh food, every time. Place your order today and bring home everybody's favorite meal. Whether you choose carryout or delivery, you can't go wrong.