Image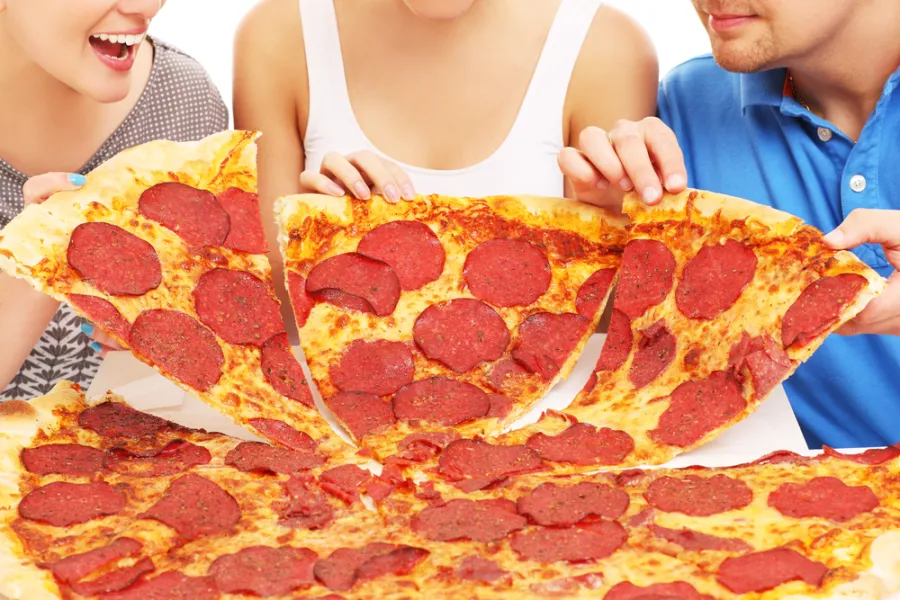 One of the most common questions we hear on the phone when customers are placing orders is, "what size is a large pizza?" It's an understandable ask, especially because different restaurants and chains may have different standards. You may also ask, "how many slices are in a large pie?" or "how many inches is a large pizza?" Since there are many different pizza sizes, these are all fair questions.
At Hungry Howie's® pizza, we're here as true pizza experts with all the answers to your large pizza-related questions so that you can order with confidence. Of course, should you want to know anything else about our ooey-gooey, cheesy, delicious specialty, give us a call or reach out to us on social media. We have a plethora of tasty knowledge, and we're always happy to share what we know with you, a fellow pizza lover.
Bring home your favorite large pie for pizza night today and please the entire family. Keep reading to learn more about how much pizza per person is necessary, the size standards at our pizza shops, specific facts about our large-size pizza, and so much more.
How Many Inches Is a Large Pie?
Let's get right down to it. You want to know "how many inches is a large pizza?" and we have the answer right here for you. The standard size for a large pie is approximately 16-inches in diameter. That means straight across, crust-to-crust, you're looking at just under a foot-and-a-half of pure deliciousness.
Of course, there are a few things that can cause slight variations in these measurements. At Hungry Howie's®, for example, we spin all of our pizza pies by hand with dough that's made fresh daily. That means that the measurements may be off by just a tad, but it's a good thing, it means your pizza is made fresh just for you.
At Hungry Howie's®, we do have an extra-large pizza that's even bigger than the 16 inches pizza, so if you're looking for even more pie, be sure to ask about our specialty pizzas in bigger sizes.
How Many Pizza Slices Are In a Large Pie?
Now that you know how many inches a large pizza is, your next question is likely how many slices it has. The standard large pie throughout the industry has six to eight slices, depending on specific pizza restaurants. At Hungry Howie's® all of our large pizzas have eight slices. This is standard across every Hungry Howie's® restaurant, so you don't have to worry about getting something different if you order from a new or different location.
You may notice that many medium pizzas are also eight slices and wonder what the difference is between the two. It's the total diameter, the 16-inches, that makes the sizes of pizza different. A medium-sized pizza will generally be approximately 14-inches.
How Many People Does a Large Pie Feed?
We also receive the question of how many people will a large feed? Or how much to order based on slices per person? This, of course, depends greatly on how hungry everyone is and whether they have major pizza appetites. However, generally, we advise that a large pie can feed up to six people, assuming that most people eat one slice and just a few go back for a second piece of the pie.
If you're ordering for a starving crew or have a bunch that routinely eats two to three slices of pizza at a time each, you'll need to order more than one pie. That's okay, too, because at Hungry Howie's® we have enough pizza to go around. We'll make sure no one in your group has to go hungry!
How Much Does a Large Pie Cost?
Are you looking to see how you'll have to divide up the cost of a large pie you're splitting between friends, or just want to know how much your pizza will take out of your pocket? It's an understandable question-- no one likes to order something without knowing the cost first. After all, if you come in under budget, you may want to add on some yummy sides like Howie Wings®, a fresh salad, or soft drinks.
The cost of a large pie at Hungry Howie's® will vary based on the type of pizza you're ordering. Plain cheese pizzas generally cost the least, with additional charges per topping. One topping pies (like pepperoni pizzas, for example) are usually the next cheapest. Specialty Hungry Howie's® pizzas like the Meat Eaters Pizza, the BBQ Chicken Pizza, or the Howie Special Pie are likely to be in the higher cost bracket.
However, we do everything we can to ensure that our pies remain as affordable as possible because we believe that tasty pizza should be within reach for every single person.
Order a Large Pizza for Takeout or Delivery Today
Hopefully, we've answered all your large pie questions by now. To break it down, what size is a large pizza? At Hungry Howie's,® it's eight slices. How many inches is a large pizza? At Hungry Howie's® its 16-inches in diameter, which can feed up to 6 people. If you're hungry for a delicious pie, order Hungry Howie's® for takeout or delivery today.
There are several convenient ways that you can place an order, including by phone or online using our awesome portal that allows you to view the Howie Track® so you can see where your order is each step of the way until it reaches your door.
Place your order for either takeout or delivery. Swing by your closest restaurant on the way home from work or the kid's sports practice, or get your pie delivered right to your home or office pizza party. Whatever works best for you works best for us.
Don't forget to ask us about our delicious sides, desserts, drinks, and more to find the perfect option for your crew today! Additionally, don't forget to add your favorite Flavored Crust Pizza, since that's what we're known for, of course.