Image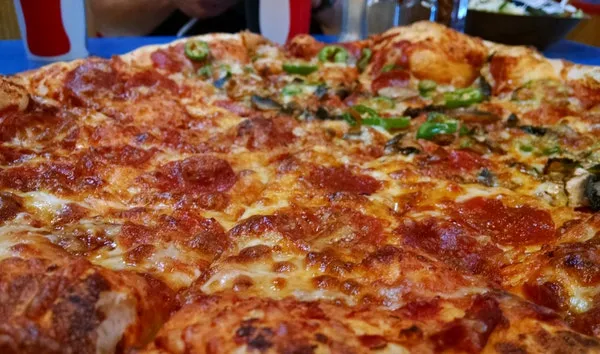 These days, everyone is leading busy lives. From work to school to recreational activities, it feels like there is never enough time to get everything you want done. As a result, everyone wants things as swiftly as possible, from finding somewhere to eat to ordering the food to taking that first bite of your meal.
Hungry Howie's understands that times change and the era of home cooked meals around the table is long gone. Of course, families can still enjoy a meal together, even if they're not at home.
With nearly 550 locations spanning across 21 states, Hungry Howie's is the perfect option whether you're on vacation or need to pick something up before you get home from work. And since everyone is now mobile, it's easy to order online whenever you need to eat.
Easy Online Ordering through Hungry Howie's
Once you find the pizza location near you, just select "order now," choose carry out or delivery, and start building your order.
Select from a variety of specialty pizzas like the Asian Chicken Pizza, BBQ Chicken Pizza, or Howie Special, or build your own pie.
Did you know Hungry Howie's offers a Gluten-free Crust*? Who says just because you're gluten intolerant that you can't enjoy pizza?
You can also customize your pizzas so maybe you want a BBQ Chicken Pizza but want to add jalapenos for a touch of spice, or you want the Bacon Cheddar Cheeseburger Pizza with onion and peppers. Explore your options and try something new every time you order!
You can also mix and match flavors with the Hungry Howie's Flavored Crust®. Butter crust is always a classic but then there's also garlic herb, Cajun, ranch, and more.
For anyone who needs to feed a crowd, there are subs, Howie Wings®, Howie Rolls® and fresh salad to choose from. Don't forget the Howie Bread®; the 3 Cheeser Howie Bread® is a delicious appetizer you can munch on before diving into the pizza.
And what's a meal without dessert? Finish off your family, or personal, meal with some hooey gooey chocolate Howie Brownies®.
No matter where you are, Hungry Howie's is nearby to help you stave off those hunger pains. Order online to make the process even easier so you can get everything else done without having to worry about prepping and cooking your next meal.
*Legal disclaimer: If you have celiac disease, our Gluten-Free Crust is not for you. If you are gluten-sensitive, please exercise your best judgment before ordering. Our kitchens are open environments, leaving our Gluten-Free Crust to possible exposure to other ingredients that contain gluten. We cannot guarantee that your pizza made with our Gluten-Free Crust will be free of all gluten.