Image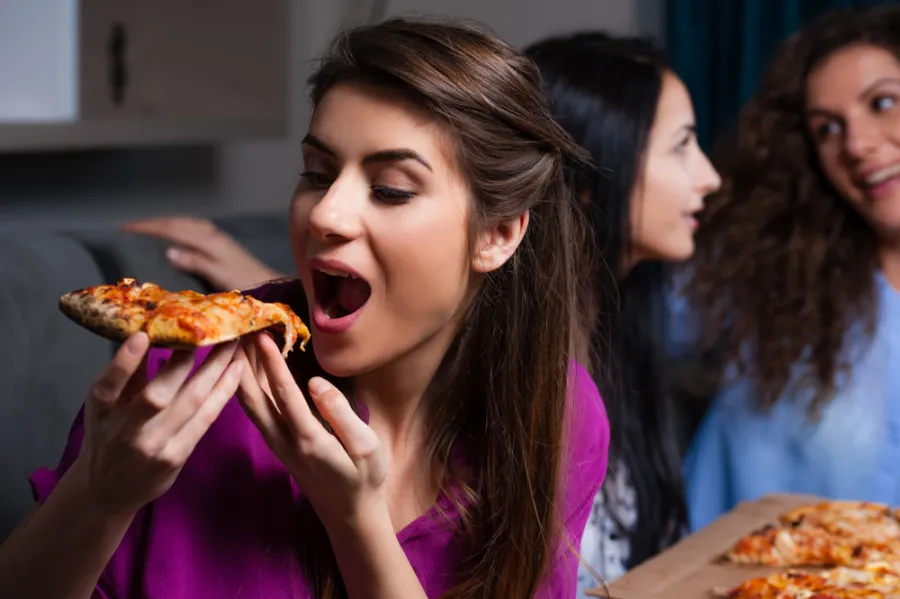 The best movie nights with friends and family require the best movie night snacks. Instead of running to the corner store or spending a fortune on app-based delivery services, you can get everything you need at Hungry Howie's®. Sometimes, that bowl of popcorn just won't cut it. Whether one bowl isn't enough to go around, or you're just in the mood for something delicious and different, plenty of options are on the horizon.
Sweet and savory, cheesy, salty and crispy, and full of flavor, you won't miss out on anything when you order your movie night snacks from Hungry Howie's®. What's best of all is that we can deliver your order right to your door, or you can swing by beforehand to grab your food. Either way, everyone in attendance for movie night is sure to be munching and smiling away.
Good Movie Night Snacks That Aren't popcorn
Sure, popcorn is a classic, but it's not the only movie night snack on the market. While it may be the default for many, you can get so much more when you think outside the box. There are many shareable options. Or hey, keep the best snacks for yourself. We won't blame you.
Check out these four unique options for movie night snacks.
1. Chicken Tenders
At first, you may not associate chicken tenders with a pizza place. Still, we have it all, including these salty and savory delicious bites, complete with your choice of countless dipping sauces to elevate your experience.
Check out our Spicy Chicken Tenders, which come lightly breaded with a side of Cajun dipping sauce. However, if you prefer honey mustard, ranch, or even marinara, just let us know, and we'll be happy to accommodate your order. Our chicken tenders come in either a 5-piece or an 8-piece order.
2. Chicken Wings
Looking for "chicken wings and tenders delivery near me?" We can take care of both in just one order. The Hungry Howie's® menu has your choice of chicken wings as well. They're the perfect dish to share with loved ones.
Try our Original Howie Wings® or the Original Howie Boneless Wings® to satisfy your craving. The Original Howie Wings® are juicy and tossed in just-the-perfect sauce and come with spicy bread plus Ranch or Bleu Cheese dressing. You can grab an order in either 8- or 16-pieces, depending on the size of the group you're serving.
Or, try our Original Howie Boneless Wings®. They're the perfect poppable snack and come lightly breaded. These wings are also served with a side of spicy bread and your choice of Ranch or Bleu Cheese dressing. They're available in sizes of either 10- or 20-pieces.
Of course, if you'd ever like a different dipping sauce, let us know, and we'll have it coming right up and ready to go with your order.
3. Cheese Bread
One of the perfect movie night snacks, cheese bread is easy to pull apart and share with the fam. Search for "cheese bread delivery near me, Hungry Howie's®," and your closest location should appear with the menu.
Hungry Howie's® has several options for our famous Howie Bread®, and each one is just as amazing as the next. Who doesn't love a warm, toasted bread bite with a tasty filling? Our Howie Bread® selections have something to please everyone attending your get-together.
Try out options such as Pepperoni Stuffed Howie Bread®, Bacon Stuffed Howie Bread®, Jalapeño Stuffed Howie Bread®, or even a hot and buttered cinnamon sugar Cinnamon Howie Bread® if you're craving something sweet. Our breadstick combinations come complete with a dipping sauce and pull apart into 16-pieces to divvy up.
4. Cookie Pizza
That's right, you heard us. You can get an entire chocolate chip cookie pie off of our menu (this may vary by location, so be sure to check with your local restaurant). Whether you're incorporating the delicious chunks of chocolate and warm dough as a dessert or want to feature it as the main snacking course, this cookie pizza is sure to be a total hit.
It's fresh-baked and shareable, divided up into eight perfect slices. The Howie Cookie® is a menu item you can't pass up on movie night.
Why Choose Different Movie Snacks
Whether it's between friends or snuggled up with kiddos on the couch, the key to a successful gathering always comes down to two things. The company and the food. You already have excellent company, so food that's just as amazing is a must.
Let's be real. The same bowl of popcorn gets boring after a while. You end up with buttery hands, corn kernels inevitably stuck in your teeth, and a snack that isn't very filling.
Instead, try Hungry Howie's® large assortment of movie night snacks that will shake things up a bit. Set out a sampling of wings, tenders, cheese bread, and a dessert cookie and watch everyone's face light up. There are sure to be some good laughs and great conversations that take place over this spread. To us, that's the most invaluable part.
Order Take-Out or Delivery Today
If movie night is tonight, be sure to order take-out or delivery from Hungry Howie's® today. We're happy to deliver straight to your door, and we love to see our customers' faces when they walk through the door for pickup. There are two easy and convenient ways to order–either give us a call or order online, where you can use the Howie Track® to watch your order each step of the way.
Get everyone excited about your upcoming movie night snacks when you announce that you have something new and different on the menu. Additionally, if you're in the mood for a classic pizza to share as you watch your favorite flick, you can grab one right here at Hungry Howie's®, too.
No matter which movie night snacks you choose to feature at your next get-together, you can't go wrong with Chicken Tenders, Chicken Wings, Cheese Bread, or a wonderful Dessert Cookie Pie. Place your order and find out why our customers are raving about these dishes!