Image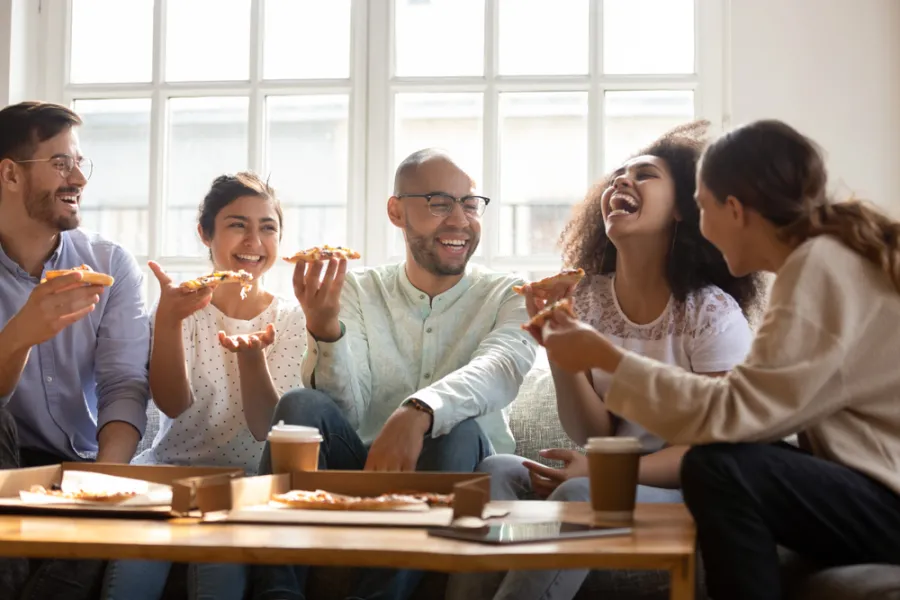 Finding great college dinner ideas can be challenging. Should you head to the cafeteria to see what they're serving up and use your meal swipes? Or should you head out on the town to a local restaurant where you're bound to rack up a bill? Sometimes it can feel like you're out of options, like you've eaten everything in town.
It's no secret that college can make or break the quality of your meal plan. Hungry Howie's® makes it easy to get your favorite meal, a fresh pizza, without the hassle. Additionally, we know that you're in the mood for something different on other nights, and we have you covered for ideas in that area, too. Hit the ground running with these simple and delicious dinner ideas for college students.
What Is the Most Popular Food for College Students?
Statistics show that certain foods are most popular among college students in particular. It's not surprising that these foods feature convenience, fast serving options and don't stretch the budget too far. The data experts at American Campus break meal info for college students in the United States down by the numbers. Let's take a look.
1. Pizza
We're proud to say that pizza tops the list of most popular college dinner ideas in the United States. It features all the best qualities of a meal. Hungry Howie's® can deliver straight to your door, so you don't have to interrupt your study session too much to grab your pie and eat while you read.
Additionally, you'll likely have leftovers if you're ordering a pie for yourself. That means that your dinner tonight can also be your lunch tomorrow, so you get more meals for the price of one.
At Hungry Howie's®, you can customize your pie as you wish. Choose from one of our eight famous Flavored Crust® pizzas for a customized pie to ultimate perfection. Add your favorite toppings or search for "pizza specials near me" to find out what awesome new selections Hungry Howie's® has on the menu tonight.
2. Chinese Take Out
Chinese takeout is another fast and easy option that ranks highly among students. With extensive menus to meet every wish, quick delivery, and a relatively low cost, it's no surprise that college kids flock to this option.
Are you looking for something spicy? Sweet? Tangy? Would you like vegetables, meat, soup, or all of the above? If you're in the mood for Chinese takeout, there's virtually nothing you can't get, including chicken wings, spare ribs, and more.
3. Subs and Hoagies
There's a great national debate over whether to call them subs, hoagies, or simply sandwiches. They're an easy option for college meal ideas, no matter what you call them. One of the best features of this option is that subs are portable. You can eat it straight out of the wrapper as you walk across campus or pack it in your bag to each on the quad after class.
If you're in the mood for a warm and toasty oven-baked sub, Hungry Howie's® has you covered. When you check out our menu, you'll find options for oven-baked subs that include everything from the Steak, Cheese, and Mushroom Sub, the Turkey Club Sub, a Chicken Parm Sub, and so much more.
What Are Some Favorite Broke College Student Recipes?
Broke college student recipes are fan favorites. While they may be inexpensive, they're creative, filled with flavor, and designed to satisfy the most serious cravings. Even if you think you've tried it all, you can elevate the flavor of many common dishes at a low cost. The extra ingredients are things that you likely already have in a cabinet, which makes the process even more simple.
When you're in the mood to stay in for a quiet night without spending any money, sometimes you have to get creative with what you have. There are plenty of ways and dishes with which you can do this, especially the go-to college classics.
Try these easy recipes for lunch or dinner in your suite or apartment if you're not in the mood to order takeout or delivery. Getting dinner doesn't always have to be complicated, but it can always be delicious. Check out 3 of the easiest college meal options we found online.
1. Creamy Chicken Ramen
Ramen noodles are often a staple of the broke college student's diet. Whether you buy the packets or the cups, the noodles are filling and the broth soothing and comforting. However, plain boring ramen noodles can get repetitive. Use this creamy chicken ramen with a mushrooms recipe to liven it up.
Key ingredients include a package of classic ramen, a 10oz can of cream of chicken soup, and a few sliced mushrooms. Add some garlic powder and sliced onions for even more flavor.
2. Omelets
You can get a dozen eggs for just a few bucks, which can last you well over a week. That's part of what makes omelets so great for college students on a tight budget, as long as you have at least a mini-fridge in your room.
Get a few of your favorite ingredients, like shredded cheese, fresh bell peppers, spinach, or ham and sausage. With omelets, just a few ingredients can go a long way. Another great thing about omelets is that they're packed with protein to give you energy and keep you feeling fuller longer.
3. The Ultimate Boxed Mac and Cheese Hack
This quick recipe jazzes up an old, inexpensive classic like the ramen upgrade above. Whip up The Ultimate Boxed Mac and Cheese Hack in less than ten minutes, with just a few extra ingredients. Combine your classic boxed Mac and Cheese with shredded or sliced cheese of various flavors (cheddar, Monterey Jack, or provolone) for an excellent boost in flavor.
Add seasonings such as salt, black pepper, red pepper flakes, or garlic powder for even more oomph.
What Should I Have for Dinner Tonight In College?
When looking at college dinner ideas, consider whether you want to cook tonight, go out to eat, or order in. If you're going to head out for a meal, that's awesome, but we understand it may not always be in the budget. Using any of the best recipes for broke college students is one way to get some sustenance. But doesn't a freshly baked pizza sound even better? Best of all, you don't have to go anywhere because when you order delivery, we'll bring your order right to you.
If this sounds like you, the answer to the question of what to have for dinner tonight is simple. "But, where can I get pizza delivery near me?" We have you covered here too. Order Hungry Howie's®, and we'll get you the pie you're craving.
Looking for more options to accompany your pizza? Check out our menu for even more delicious options. At Hungry Howie's®, you'll find dishes like oven-baked subs, oven-baked pasta, fresh salads, dessert, and more. Whether you're ordering for yourself or a small group of friends, we have something sure to please everyone.