Image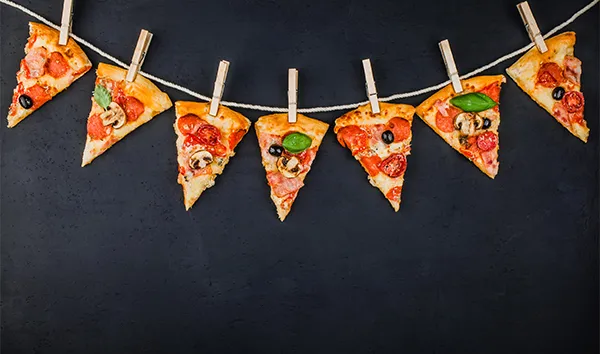 Throwing a pizza party is a great way to celebrate your love for pizza. A party based around pizza is a great opportunity to try different flavors you usually don't order for yourself. Pick from our different pizza flavors like buffalo chicken, veggie pizza, BBQ chicken, and more.
Have fun mixing different pizza flavors with our signature Flavored Crust® options to surprise your guests. Turn your home into an authentic pizzeria with these Italian décor ideas.
Decorate the Room
To make sure your pizza party feels and looks as authentic as possible, here are some décor ideas to transform your party room:
Create a photo booth background. Use construction paper to cut out round pizza shapes, decorate them with paper pieces made to look like popular toppings like pepperoni, peppers, and olives. Hang the paper pizzas against an empty wall or throughout the party area. You can also create pizza garlands to hang above the dining table.
Set the table with a red and white tablecloth.
Make your own centerpiece using a chef's hat, oven mitts, wooden spoons, and a pizza pan.
Use straw-covered empty wine bottles as candle holders to set the mood.
Create place settings with personalized chef hats and use fabric paint to write your guests names on the hats.
Use Italian flag napkins or place little flags on wine glasses to add some color to the festivities.
Instead of knives provide your guests with mini pizza cutters to have an authentic pizzeria feeling. 
Showcase the Menu
Just like in a real Italian restaurant, let everyone know what the menu for the day will be. Showcase your menu using these simple ideas:
Bring out a chalkboard menu to list the different pizza flavors available.
Print out pizza-shaped menus with the many toppings available.
Place small bowls with extras of popular topping options.
Use metal or wood pizza stands to make pizzas accessible to everyone and also turn them into part of your décor.
Once you've completed your décor and ordered your pizza, sit back and enjoy socializing with family and friends.