Image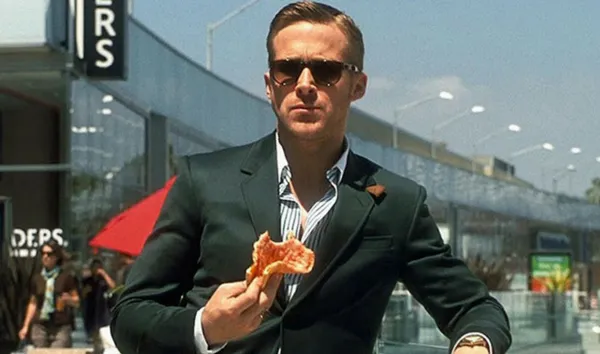 Celebrities have to keep up with their diets, but now and then, they indulge in some delicious pizza creations. From the craziest combinations featuring chili and noodles to the classic Margarita style pizza, celebrities know their favorite choices and what satisfies their pizza loving heart.
These are some of the favorite pizza creations from Hollywood's biggest pizza fans. 
Jennifer Lawrence
Probably one of the greatest pizza-lover celebrities out there. Jennifer Lawrence certainly knows about pizza, and it is not afraid to tell the world about it. Believe it or not, her favorite pizza looks more like a sandwich – a distinctive sandwich, to say the least. Her favorite creation includes a piece of pizza, add some southern chili and noodles, and top it off with another slice of pizza, and proceed to eat this like a sandwich. She claims this is her best invention to date, Lawrence told Glamour in a video.
Chance the Rapper
While he cannot stay away from a traditional Chicago-style deep-dish pizza, Chance the Rapper stays classic with pepperoni pizza, because why mess up something so pure, he explained as he talked about pizza preferences at the VMAs.
Beyoncé
Although Beyoncé is known for favoring her vegan pizzas, her to-go pizza choice involves extra tomato sauce and jalapenos. In fact, the famous singer has confessed to Beat Magazine, she keeps a bottle of spicy sauce in her purse because you never know when you need extra spiciness.
Amy Schumer
Another celebrity who loves her pizza spicy is Amy Schumer. Her regular pizza order will include toppings like pepperoni and jalapenos. However, don't forget to add a side of ranch sauce, or she is not eating that pizza. She devoted an entire comedy sketch in honor to the subject.
Kendall Jenner & Khloe Kardashian
These Kardashian sisters are pizza purists. They stick to the basics, no matter what. Both Kendall and Khloe have shown their devotion to Margarita pizzas in their social media accounts and countless Keeping up with the Kardashians episodes.
Ed Sheeran
The famous English songwriter has a unique idea about a pizza and its toppings. For Sheeran, his pizza starts with a traditional sauce and cheese pie, then he tops it with chips (French fries) and rolls it up to dip it in ketchup before he indulges in this tasty creation. He explained the complicated creation in a lengthy Tweet.
Kate Middleton
Royals are no strangers to the divinity of pizza. Kate Middleton is said to be an avid pizza lover, and while on many trips to the U.S., she often indulges in a royal pizza featuring prosciutto and sausage toppings, as we've seen in countless photos.
Miley Cyrus
The actress and singer is another celebrity with a crush on pizza. Cyrus always shows her love for pizza by posting photos of her pizza pillows, pizza onesies, pizza jackets, etc. In fact, the singer had a pizza-themed party for her 22nd birthday as noted by The Huffington Post. For Miley, the cheesier the better, no need to add anything else.
LeBron James
The NBA player knows his pizza and keeps up with his high-protein diet. LeBron uses pizza dough transporter for his many protein preferences. The craziest and biggest pizza order we've seen probably is his favorite: high rise pizza dough with spicy sauce, extra mozzarella cheese, parmesan cheese, grilled chicken, turkey meatballs, banana peppers, green bell peppers, red onions, fresh basil, garlic, spinach, sea salt, oregano, arugula, Kalamata olives and olive oil drizzle. It has 16 toppings! You can see the actual creation as he shared it on Instagram.
What's your favorite pizza creation?
Sources: https://www.glamour.com/story/jennifer-lawrence-video
https://www.instagram.com/p/BDtX6H9iTMX/
http://www.huffingtonpost.com/2014/11/23/miley-cyrus-22-birthday_n_6207754.html
http://perezhilton.com/2014-12-12-kate-middleton-ordered-pizza-hotel-room-carlye-new-york-city-prince-william#.WY4jOFGGOUn
http://www.twistmagazine.com/posts/ed-sheeran-loves-the-most-unconventional-pizza-toppings-56829
http://www.dailymail.co.uk/tvshowbiz/article-3136921/Kendall-Jenner-displays-figure-chic-black-outfit-chows-pizza-sister-Khloe.html
http://www.cc.com/video-clips/wf4ttl/inside-amy-schumer-pizza-world-nights---uncensored
http://www.thebeatjuice.com/category/interviews/
http://www.amny.com/entertainment/celebrities/vmas-2016-flo-rida-chance-the-rapper-and-more-red-carpet-chats-1.12236677