Image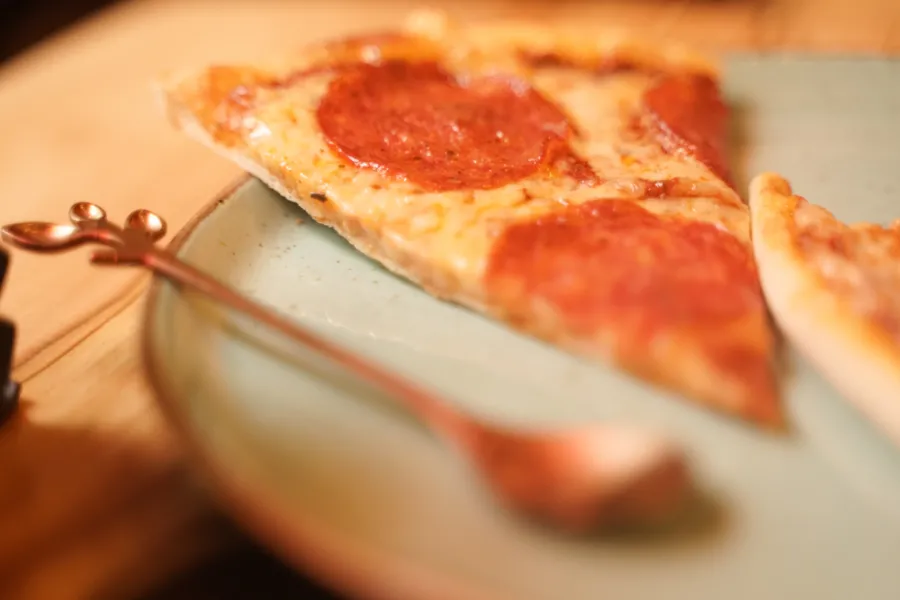 The number of calories in a slice of pizza can depend on many things. It can depend on what toppings you get, how much cheese is on the pie, what dough the restaurant uses, and so much more. Even from the same restaurant, the number of calories between any two slices varies slightly, even if they're from the same pie. This can leave many diners scratching their heads when it comes to figuring out how many calories they're consuming when it comes to lunch or dinner.
Here at Hungry Howie's®, we're completely transparent with our customers regarding the nutritional facts of our meals, including the calories in a slice of pizza. You can check out our entire Nutrition Builder for information on each and every item on our menu, right down to the sauces and dips.
But you came here to learn about the calories in a slice of pizza with pepperoni on top, and we hear you. While we can't speak for other restaurants, we're happy to share all the information we have about our food with you.
If you can't wait and already wonder, "where can I find pepperoni pizza delivery near me?" We have a solution to that as well. Give us a call or place an order online, and we'll get a delicious pepperoni pie to you as soon as possible.
Keep reading to learn more about pepperoni pizza trivia facts, what slices of the pie have the lowest and the highest, the number of calories, and more.
Pepperoni Pizza Facts
It's no surprise that pepperoni pizza is the most common pie in the United States, aside from your classic plain cheese pizza. It even has an entire national day dedicated to celebrating its greatness every year on September 20th. Another fun fact is that a pizza with pepperoni was the first known pie ever ordered online, way back in 1994.
But there's so much more we can say about the tasty dish and its prized ingredient.
Approximately 36% of all pizza orders in America include a request for pepperoni as a topping.
Pepperoni pizza adds a light spicy and hearty, meaty flavor to the pizza dough, tomato sauce, and cheese combination. These flavors come together to provide the ultimate taste and many people's favorite.
Pepperoni first appeared on the foodie scene around 1919 in New York City. Pepperoni first appeared in many Italian delis and pizzerias across Lower Manhattan before gaining popularity nationwide. Today, it's a classic.
The word "pepperoni" translates to "big peppers," which may not make sense to many today. However, the first renditions of pepperoni did include ingredients such as bell peppers.
In the United States, the population eats a total of 251,770,000 lbs. of pepperoni on pizza each year.
It's believed that the original pepperoni pizza topping was used between WWI and WWII as a creative way to use food scraps without letting any go to waste.
Contrary to popular belief that pepperoni is simply pork, you may be surprised to learn that there's also beef blended into the scrumptious bites. Pepperoni is a cured meat commonly stuffed into its casing with additional flavor boosters, such as peppers, garlic, fennel, or mustard seeds.
The most recent figures show that the United States pepperoni industry tops $526 million in annual revenue.
The top three states for pepperoni production are Iowa, Minnesota, and North Carolina.
The average pepperoni pizza has approximately 40 slices of cured meat on top, though this can vary significantly based on pizza size and more.
At Hungry Howie's®, one slice of pepperoni pizza is approximately 165 calories. The calories in pizza are based on one classic cheese slice (which is 160 calories at Hungry Howie's®) and then calculated according to any additional toppings. A slice of pepperoni pie will also boost your sodium intake by about 45mg per slice and your fat intake by 0.5g per slice.
Pizza with the Highest Calories
Determining which pizza has the highest calories is all about the toppings. Some will set you back further than others. Big-ticket calorie toppings include extra cheese, sausage, and meatballs. You may see calorie counts increase to as much as 470 calories per average slice at some chain restaurants.
The calorie count in a slice of pizza mostly comes from the dough, which is usually made from wheat flour. Pizza dough is extremely filling, and everyone knows it's an essential base for a good pie. At Hungry Howie's®, we make our dough fresh daily so that it's as delicious as possible.
Whether you're looking to up your calorie intake or want to know which pizzas to stay away from, we have a general rule to follow. A plain cheese pie will always have the lowest calories, while a pizza stacked to the brim with toppings will be the highest. If you're in the mood to get a little crazy with your order, consider the ultimate Hungry Howie's® Meat Eaters Pizza, the Howie Special Pizza, or a Bacon Cheddar Cheeseburger Pizza. The first two options feature the crowd favorite as a topping–pepperoni.
The Lowest Calorie Pizza
There are a few ways to watch how many calories in a slice of pizza you get here at Hungry Howie's® pizza. First, keep the toppings to a minimum, even if it means leaving off the pepperoni (we know it's hard to do). Then, choose either a plain cheese pie made with our 100% real mozzarella cheese. Or, if you're really craving something on top, consider an array of our fresh veggie topping options.
Another way to limit your calories when ordering is to order just as much as you need, with no leftovers available. Of course, that means you won't be heating up that last slice in the oven for lunch tomorrow, but sometimes you have to do it. Or, consider ordering a smaller, 8-inch personal pizza. You can still get pepperoni on top, but the overall caloric damage won't be as steep.
Order for Take Out or Delivery Today
Order your favorite pepperoni pizza for take-out or delivery today, right here at Hungry Howie's®. And, if you're a true pepperoni lover searching for additional options such as "pepperoni bread delivery near me," we have you covered there as well. The chances are that when it comes to all things pizza and pizza-related, we're a one-stop shop.
Additionally, order an array of sides and desserts, like fresh salads, oven-baked subs, and more. Either place an order online or give us a call, and we'll prep your order for take-out or delivery quickly to bring a smile to your face.