Image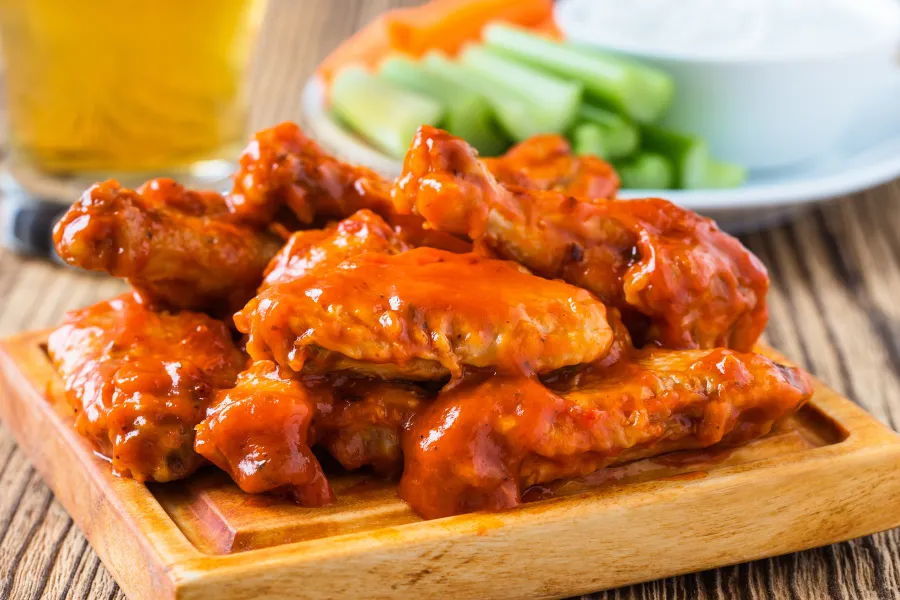 Buffalo wings are a tried and true American staple that will liven up any sporting event or party as well as make for a filling and tasty lunch or dinner.
Wings are endlessly customizable. You can serve them wet, dry or with sauce on the side. They can be breaded or not. Maybe you like flats or drums only, or perhaps you prefer boneless wings.
Either way, Hungry Howie's has great options for buffalo wings that will satisfy you and your guests. Get in touch with your inner carnivore and have some Howie Wings delivered today!
Boneless vs. Bone-in Chicken Wings
Bone-in chicken wings come from, unsurprisingly, a chicken's wing. The wing's tip is removed, and the remaining drumette and flat are separated. Wings are often grilled, fried or baked and then dressed in a sauce. Do you prefer drums or flats, or do you like both?
Boneless "wings" are typically made from chicken breasts, not the chicken wing. The wings are breaded and cooked and then sauced in the style of traditional wings. Boneless wings are a good choice for people who are put off by the bone inside traditional chicken wings or prefer white meat. Detractors say they are a glorified chicken nugget, but how could that be bad?
Hungry Howie's offers both bone-in and boneless chicken wings. Our Howie Wings are the real deal, lightly seasoned and served with a range of finger-licking-good sauces. Our boneless wings are made from 100% chicken breast.
Bone-in wings are a more popular choice than boneless, but boneless wings have a loyal following. If you are serving chicken wings, consider getting both bone-in and boneless wings, so that everyone can get their wing fix, and no one is left out.
Howie Wings Deliver Flavor
Our bone-in and boneless wings are paired with flavorful sauces and are a perfect complement to our hot and cheesy pizzas. Ordering Howie Wings for delivery is fast, convenient, and affordable. Just check out a Hungry Howie's near you to try out all our flavor-packed Howie Wings today. Are wing tastings a thing yet? Let's change that!
Original Bone-in or Boneless Howie Wings
If you prefer no sauce or sauce on the side, our Original Howie Wings are the perfect choice! Both our bone-in and boneless Howie Wings are mildly seasoned and served with your choice of dipping sauce. Double dipping is encouraged!
Asian Bone-in or Boneless Howie Wings
Craving wings but want something different? Our zingy Asian Howie Wings are a punched-up version of our traditional lightly seasoned wings. We toss them in a tangy Asian sauce that will make your mouth happy. These wings pair well with our Howie Maui pizza--a great choice if you are craving pizza and wings but want less traditional flavor profiles to zhuzh up your weekly pizza night.
BBQ Bone-in or Boneless Howie Wings
Elevate your bone-in wings with BBQ flavors by ordering up some BBQ Howie Wings for delivery! Our traditional Howie Wings are slathered with our sweet and flavorful BBQ sauce. Be sure to get some ranch on the side for dipping. You're going to want extra napkins for this! Unlike your favorite BBQ place, Hungry Howie's can offer you both BBQ wings AND pizza. What could be better?
Buffalo Bone-in or Boneless Howie Wings
Enjoy our Howie Wings with the iconic buffalo sauce flavor profile we all know and love. Our spicy sauce tastes awesome on our succulent chicken wings. Pass the ranch and blue cheese, please!
This is a great sauce to get with our boneless wings. The iconic Buffalo flavor can give you the classic wing experience but with our boneless chicken wings made from 100% chicken breast. Order a classic pepperoni pizza with boneless Buffalo Howie Wings for your next game day. That's a tailgating meal everyone can get behind!
Order Some Howie Wings for Delivery Today!
Whether you want to make a meal out of wings or add wings to your pizza order, Hungry Howie's always has great deals on wings. Our lunch specials as well as pick 2 and meal deals can help you get Howie Wings delivered for an affordable price. The only problem is deciding which flavorful sauce to coat you wings in.