Image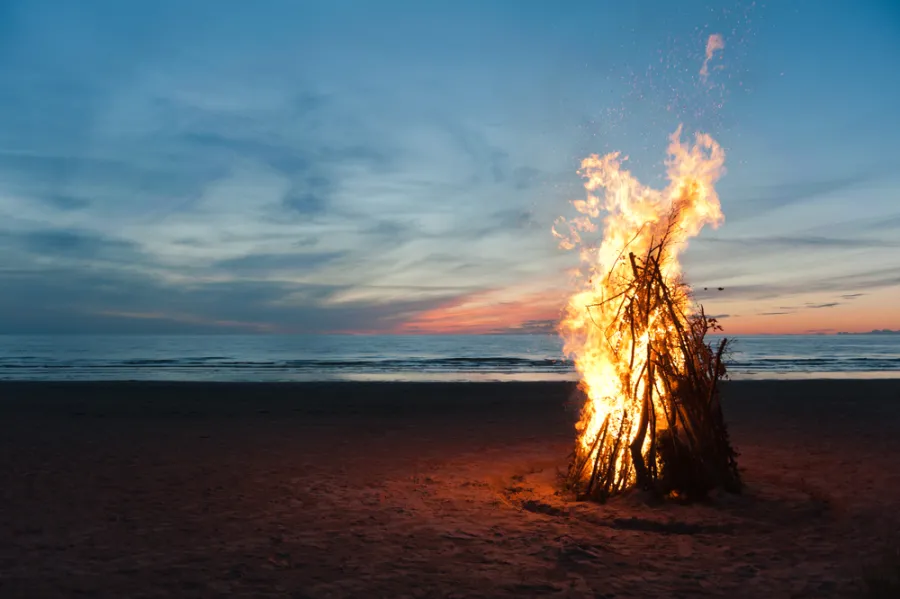 Bonfires are a quintessential part of summer, and having the right bonfire food ideas on the menu is a great way to make sure everyone enjoys the event. Whether you're hosting a bonfire in your backyard or are heading off to a gathering at a friend or family member's house, you can add something extra to the party when you bring a delicious treat that everyone can share.
Hungry Howie's® is here to share the best bonfire food ideas and let you know precisely where to get them. We have everything you need to keep everyone warm and toasty and in good spirits as they enjoy the evening. Share laughs, memories, and excellent food around the fire when you order take-out or delivery today.
What Kind of Food Do You Eat at a Bonfire?
Of course, s'mores are a classic food when attending a bonfire, but there's so much more that you can add to the menu. Bonfires are all about coming together, and food is a great way to bring everyone even closer. Nothing creates a great bond between people, quite like sharing a meal.
The best kinds of food to eat at a bonfire are easily shareable, handheld, and scrumptious to their core. No one wants to fumble with paper plates and reusable utensils in the dark. Instead, the best bonfire foods are ones that come ready to eat. Items that you can break a piece off of and enjoy, even if just folded with a paper towel beneath. The casual atmosphere of a bonfire calls for precisely these types of menu selections.
At a bonfire, you want food that you can easily pass around and allow people to take as they wish or pass on to the next. You also want a wide enough variety to ensure that there will be something for everyone! Bonfires typically aren't the place to serve full meals. They're far less formal than other gatherings, and it's likely that even the host won't want to hassle with setting up folding tables and a buffet line. Instead, the best bonfire food ideas are more snack-able. But that doesn't mean you have to sacrifice on deliciousness.
What Are Good Snacks to Bring to a Bonfire?
Shareable snacks are sure to be a hit around a warm, toasty fire. They're fun, give everyone a little bit of something, and are easy to eat and clean up. At Hungry Howie's®, we have a variety of menu items that meet all of these needs. Plus, they're the tastiest around if we do say so ourselves.
Cheese Bread
Look for "cheese bread near me" and place an order from Hungry Howie's® before the event. It's one of the perfect snack foods to bring to a bonfire for several reasons. Our cheese bread orders come with 16 pieces, pre-sliced and ready to share. With ten different options to choose from, you can grab just one or pick a few different flavors to pass around. Don't forget to request your favorite dipping sauce for even more flavor and fun.
Cookie Pie
A chocolate chip cookie pie is another sweet and savory treat to bring along to a bonfire. Many people crave dessert-like foods late at night, and a chocolate chip cookie pie is s'mores-esque yet easier to eat. No more burning marshmallows, crumbled graham crackers, or sticky mess. Instead, satisfy everyone's sweet tooth with a freshly-baked cookie pie. Conveniently pre-sliced into nine pieces, everyone can dig right in. No utensils required.
Wings
Howie Wings® are an excellent bonfire food idea. Search for "chicken wings near me" to check out our options. We have eight flavors and variations, including wings tossed in Asian, BBQ, or Buffalo sauce. Choose from the classic version or boneless wings if you're looking for a food that you can pop in your mouth in one easy bite. Depending on how many people you're planning to feed, choose from 8-, 10-, 16-, or 20-piece orders. We can add any of our dipping sauces on the side. Sweet or tangy, mild or spicy, choose your favorite flavor.
Flatbreads
Are you looking for "flatbreads near me?" Hungry Howie's® has more than ten variations, and they're perfect for those warm summer nights around the fire. From choices that include Bacon Cheddar Cheeseburger to Meat Eaters options, and everything in-between, each flatbread has eight pieces to pass around the circle. It's a little lighter than a classic pizza without being short on toppings or flavor. It's the perfect shareable, snackable food to bring to a late-night get-together.
Drinks
Don't forget to snag some drinks if you're loading up on snack foods for a bonfire. All that time around a warm, toasty fire with lots of sweet or savory foods, everyone is bound to get thirsty. Hungry Howie's® proudly stocks Pepsi products so grab a few 20-ounce bottles or opt for our 2-liter beverages. If you're looking for water bottles, we have those too. Throw them in a cooler and keep them on ice, so they're nice and chilled all night long.
Order Take-Out or Delivery Today
When it comes to bonfire food ideas, Hungry Howie's® has it all, and we make it easy to get all of the snacks and beverages to your location. Order for take-out if you prefer to pick up food on your way home or to the event or place an order for delivery, and we can even get your snacks directly to the bonfire.
The best part about Hungry Howie's® snackable bonfire foods is that you don't have to plan too far ahead. If the party gets going and people get hungry, you can place an order right there. That's the beauty of fast and casual foods. Of course, if you are looking to plan ahead, that's great too. Whatever works best for you, we're here to meet your needs. Order Hungry Howie's® today for the best bonfire foods.