Image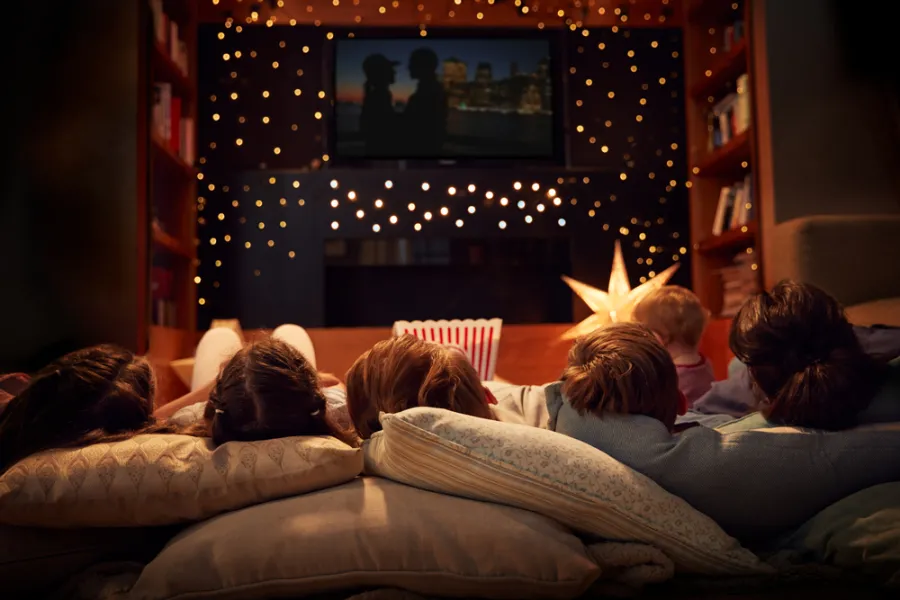 The best family night ideas start right at home. From the best food to engaging activities that are sure to make everyone laugh, it's easy to put together a gathering that everyone will love. We're here to help you get started with the planning process so that you can make family night a regular thing. There's no better way to bring parents, siblings, and even the aunts and uncles closer than to host a party using our favorite family night ideas.
First thing's first. Search "pizza delivery near me" to find your closest Hungry Howie's® location. Everyone knows that a great night starts with an even more incredible pizza. Food plays a central role in family night. It's one thing that truly brings people together to bond. Place your order tonight and bring home something that's sure to make everyone smile.
Benefits of Planning a Weekly Family Night
If you have kids, you know how crazy schedules can get. There's pick-up and drop-off, soccer practice, and dance class, among other weekly obligations like food shopping, house cleaning, and laundry. Sometimes it can make your head spin. Often, we forget to sit down and spend real quality time together.
However, there are more benefits than simply getting to spend time together. It turns out that kids who engage in a regular family night form important life skills and psychological development.
A few benefits of family dinner and activity night include:
Form lasting connections: Family night does more than help your loved ones feel a sense of togetherness now. Experts state that families who have regular get-togethers form stronger bonds that last a lifetime. Those little moments now amount to a deep sense of connection in the future.
Build a sense of self-esteem: Everyone wants their children to grow up with a positive sense of self-esteem and confidence. Your family night ideas can enable your children to become more sociable and outgoing. They're also likely to feel more valued and listened to by their parents and family members.
Fight off sibling rivalry: Sibling rivalry is part of growing up. It's just a fact of life, whether it's fighting over toys, trying to get mom's attention, or competing at who can build the best block tower. But, sometimes, things can take a turn for the worse. Spending family nights together regularly can help teach your kids how to work together, problem-solve, and appreciate each other's company.
Family Night Food Ideas
What's a family night without great food? There's an interesting psychological phenomenon associated with sharing a meal, particularly if you're sharing the same dish as someone else at the table. While coming around a table to break bread in any way helps form relationships, actually eating the same thing helps foster an even more profound sense of connection.
Here are three family food night ideas to bring your group closer together.
Pizza
Pizza is one of the most popular foods in the country. More than 3 billion pizzas are sold annually across the U.S.A., and more than 41% of all American citizens consume at least a slice a week. Looking at things on a grander scale, nearly 93% of people enjoy at least one slice every month. That means that pizza is something almost everyone can agree on regarding dinner options.
At Hungry Howie's®, our menu has something for everyone. We have your family night covered whether you're into our Meat Eaters Pizza or a Veggie Pie. Don't forget to add your favorite Flavored Crust® to your order; it's a great way to make your family night even more unique with eight different options to choose from.
Chicken Wings
Chicken wings and tenders are another excellent option to share. Look for "chicken wings near me" and order from Hungry Howie's®. We have classic Howie Wings®, spicy chicken tenders, and boneless wings. All are served with your choice of ranch or bleu cheese dressing and a side of bread.
Choose from a small or large order depending on the size of your group and how many hands will be digging in. If everything isn't scarfed right down, re-heated chicken wings make for great leftovers.
Chocolate Chip Cookie Pie
Who doesn't love dessert? A chocolate chip cookie pie is something that the kids are sure to ask for again and again. It's ooey, gooey, and oh so delicious. Soft and warm, pull apart the slices for a chocolate delight. There's nothing like ending a good meal with a scrumptious dessert.
Share it at the table, or bring your cookie pie into the living room to watch a movie together. Don't worry about the crumbs–the bond your family will build over a shared meal and the memories you'll make will far outweigh a little mess from time to time.
Family Fun Night Ideas
Now that you have the food portion of your family night ideas covered, it's time to plan the activity. While sharing a meal itself is a great way to bring everyone together, following dinner with a group activity keeps the night going and continues the fun.
Here are three family night ideas for your next gathering.
Board Games
It may sound cheesy, but it's impossible to step away once you get into a good board game until you see the winner. There are plenty of options to choose from, from the classics to newly updated games fresh off the shelves. Move your pieces around the board, collect your "money," or advance your characters through life. Your kids will laugh and smile as one game piece passes the next, setting the lead.
Movie Night
Another classic, piling onto the couch and floor for a movie night, is an excellent idea for the weekend–especially when strict bedtime is less of a concern. Choose from comedies to horror flicks, dramas to historical pieces, whatever your family's interests are. Having movie night gives you all something to talk about. Discuss your favorite characters, the surprising twists and turns, and ultimately how the movie makes you feel to encourage family bonding.
Camping Out (Or In)
If there's a clear sky and warm weather in the forecast this weekend, consider pitching a tent in the backyard. You can bring the campground right to your home when you have your own mini camping session. If the great outdoors isn't your thing, build a fort in the living room and pile on the pillows. It's these little things that kids will remember for a lifetime.
Order Hungry Howie's® Today
If you're planning a family night dinner and activity routine, Hungry Howie's® is here to make the food portion easier. Order for take-out or delivery and add all your favorites to the list. We'll bring everything right to your door, or you can swing by on your way home from work to pick up your order.