Image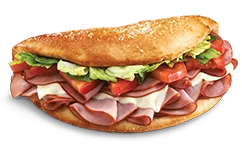 There's nothing better than taking a bite of mouthwatering pizza dough subs (like a great calzone) and tasting the quality of fresh, delicious ingredients. You can tell when a calzone is cooked fresh and made to order rather than processed and frozen before a restaurant throws it in the microwave or oven to heat it up before your arrival. Ten out of ten times, you'll agree that fresh is better. Especially when you're paying for it for a quick lunch or take-out night with your partner or family.
At Hungry Howie's, we know the importance of using fresh dough to make our calzones and oven-baked subs. We make our pizza dough fresh daily to keep the deliciousness at peak potential. Our dough stays at the proper moisture level and temperature all day to ensure its integrity when it's ready to go into the oven for its next order.
We have seven varieties of oven-backed calzone-style subs on our menu, and you can always build your own if you feel like making a twist on our pre-selected options. That's the great thing about fresh pizza dough subs and calzones–you can customize your order without hassle.
Benefits of Fresh Pizza Dough Subs & Calzones
It's definitely true that freshly made is always better. There are several benefits to eating a meal made with ingredients crafted daily, which makes ordering an oven-baked calzone-style sub from Hungry Howie's the best.
Learn more about the three most important benefits below.
1) Fresh Dough Tastes Better
This is the most important reason to purchase products made with fresh ingredients. They simply taste better. When other restaurants and chains make the dough in super large batches, portions often end up in the freezer to use later. But how long is later? Sometimes, the dough can sit for a week or longer before they pull it out to use again.
Freezing dough, or even refrigerating it for extended periods, severely compromises the taste. You can tell when you take a bite of something that had a freezer burn. It's dry, gritty, and can even taste saltier than usual. When placed in the freezer, moisture leaves the dough while oxygen makes its way inside. This changes the texture; the more freezer-burn dough gets, the worse it tastes.
That's why we never take this approach. We don't like that chewy, hard-to-eat, bitter taste. Your dough should be fluffy, well-risen, and perfect for eating. With the daily-made dough, that's what you get every time.
2) You'll Know the Ingredients
With the frozen dough, and really any food, if you're buying it from the store, it's bound to have tons of preservatives and other ingredients you don't recognize. When you're ordering something that has dough made just that morning, you'll know what's in it. At Hungry Howie's, we're transparent about how we make our dough.
Ingredients in Hungry Howie's Fresh-Made Dough Include:
Yeast
Flour
Extra Virgin Olive Oil
Salt
Sugar
Cornmeal
Water
Since we make the dough used in our calzone-style oven-baked subs daily, we get to skip the preservatives you've never heard of to keep it simple and tasty. Our calzone-style subs are lightly brushed with butter and topped with a light sprinkle of Parmesan cheese for a flavor boost.
Of course, we also use a delightful mix of seasonings to elevate the flavor. For that classic Italian taste, you'll find ingredients like garlic powder, onion powder, paprika, thyme, rosemary, oregano, parsley, and basil.
3) Fresh Pizza Dough Is Healthier Than Other Options
A few key things make fresh dough healthier than pre-made or frozen options. Fresh dough tends to have higher levels of key nutrients and minerals that provide benefits you may not find in other doughs.
Benefits of fresh pizza dough subs include:
Antioxidants to help fight free radicals in your body.
Higher protein content than many frozen varieties and higher protein levels than regular bread dough.
Fresh pizza dough tends to have fewer calories than pre-packaged dough.
You'll get a good serving of dietary fiber with fresh pizza dough subs.
The fresh dough contains lactobacillus, which helps feed the beneficial bacteria in your gut to help regulate digestion and support healthy immunity.
Try a Calzone-Style Oven-Baked Sub Today
Check out our menu options for calzone-style oven-baked subs, like our ham and cheese sub, Italian sub, a steak cheese mushroom sub, the pizza deluxe sub, chicken bacon ranch sub, veggie sub, or our turkey club sub.
In addition to our fresh pizza dough, you'll find flavorful ingredients like salami, pepperoni, ham, mozzarella cheese, cheddar cheese, lettuce and tomato, marinaded steak, tomato sauce, grilled chicken breast, sliced turkey breast, bacon, ranch dressing, Italian dressing, green peppers, red onions, and black olives.
If you're in the mood for something even more delicious, you can add one of our eight dipping sauces to the side, like our garlic dipping sauce or extra tomato sauce.
Order our pizza dough subs, calzone style, today for take-out or delivery. Remember to order soft drinks, dessert, or a fresh salad for an amazing meal.