We know that you're concerned about COVID-19. We are too.
Hungry Howie's has been making pizza for our customers for almost 50 years. The health and safety of our customers has always been our top priority. During this pandemic, we are even more concerned.
At Our Stores
We've communicated with our independent operators to reinforce our health and safety standards. Each of the preventative measures recommended by the CDC are already standard practice across our 550 locations, including the frequent washing of hands with soap, disinfecting heavily used surfaces and more. We encourage the following practices:
Make sure sick employees stay home
Remind team members on all health procedures
Reinforce intense cleaning practices
Image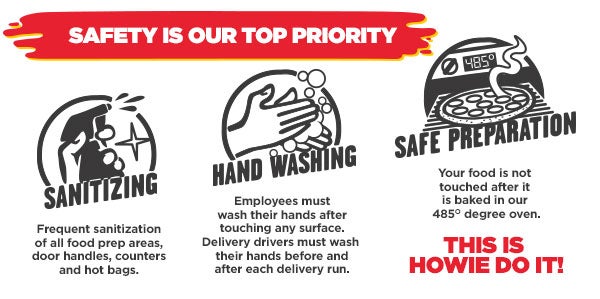 No Contact Delivery Option
If you're having your order delivered, our drivers won't be offended if you ask them to "Please Step Away." This means that when a driver arrives, feel free to ask them to set down your pizza where you choose and step back to provide appropriate social distancing.
Order Online - Credit Card/No Cash Option
To help limit your physical contact and money handling, you're encouraged to order and pay online. (including leaving a tip for your driver, if applicable).
As the situation changes, we will respond accordingly.
Thank you for trusting us to serve you,
Hungry Howie's Pizza